Aside from being a good source of fun for kids and their parents, playing is also a way to build healthy brains, bodies, and relationships. There are various ways for kids to play—through arts, sports, mindfulness activities such as kids yoga classes, and spending time with nature.
If you're looking for healthy, nature-filled, and fun play places in Singapore, this list is for you.
This article is part of our Mindful Living Guide to Singapore with tons of tips for happy, healthy and mindful living in Singapore.
Splat Paint House
For the creative minds
Drawing, painting, and creating things out of the imagination is just one of the many ways to cultivate creativity in children. When they are allowed to imagine and make things with their hands, they develop self-confidence that they can carry with them through adulthood.
At Splat Paint House, kids can unleash their inner artist, bring home their artwork, and hang it at home for everyone to see. Now that's a major confidence boost!
Splat Paint House
Address: 207A Upper Thomson Road Singapore (Google Maps)
Contact Details:+65 8930 0947
Link: Splat Paint House
Forest Adventure
For nature-loving thrill-seekers
Immersing in nature is proven to be one of the best ways to improve one's physical and mental health. Basking among natural reserves calms the mind, slows down the heart rate, and reduces the stress hormone called cortisol. In Japan, they call this 'shinrin-yoku' or forest bathing.
Forest Adventure not only offers shinrin-yoku, but also playing on top of trees and getting suspended in the air with ropes. How cool is that? The heart-pumping obstacles for the young ones are under the Kids and Juniors Courses.
Forest Adventure
Address: Bedok Reservoir (Google Maps)
Contact Details:+65 8100 7420
Link: Forest Adventure
Wake Park
For the young athletes
Encouraging children to take up sports while they are still young is a great way to build healthy lifestyle habits. At Wake Park, children can meet new friends while getting in their exercise for the day by playing on the water and learning how to balance on a wakeboard.
It's the only cable-ski park built in a lagoon at Singapore East Coast Park. They cater to high-energy kids as young as 6 years old. Kids who love adventure and watersports will love wakeboarding, and as for first-timer adults—get ready for some soreness the next day.
Wake Park
Address: 1206A ECP, Singapore (Google Maps)
Contact Details: +65 6636 4266
Link: Wake Park
Central Public Library
For the readers and booklovers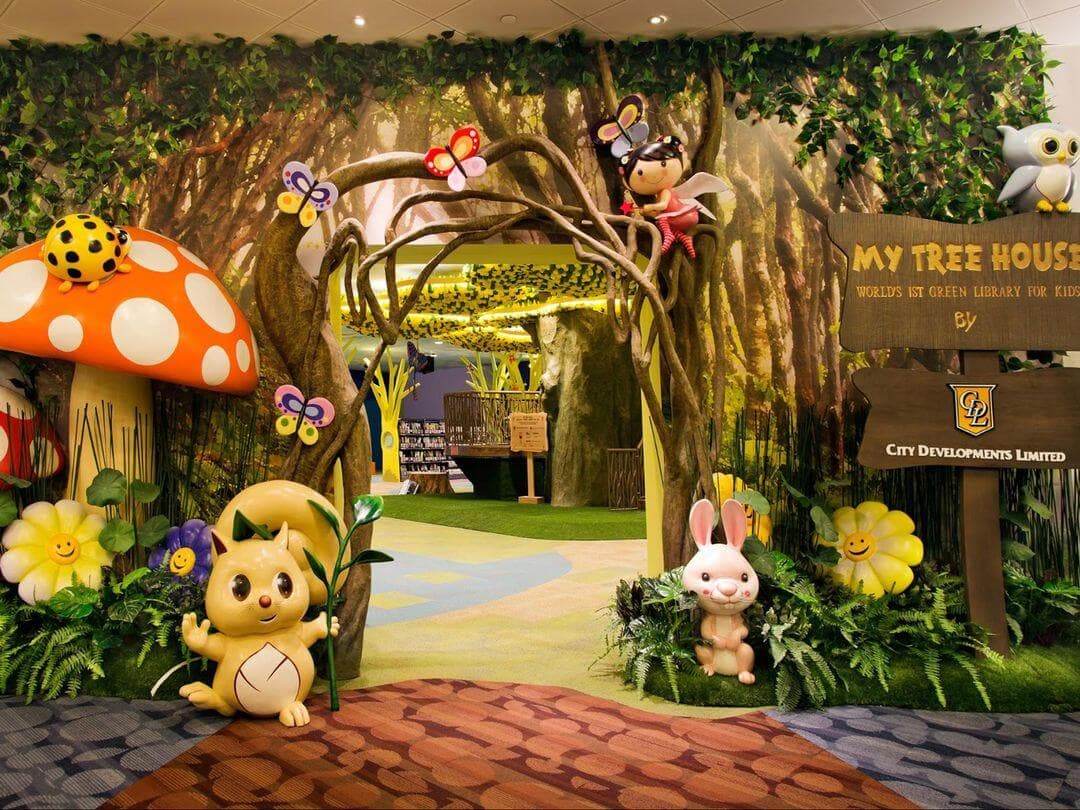 Reading is not just a school activity. It doesn't have to be confined to academic learning, rather, it's also a source of fun and play. At Central Public Library, children can read at My Tree House, the world's 1st green library for kids. Some 'green' features of this library are the recycled bottles and timber, refurbished bookshelves, and energy-efficient LED lights.
If you are up for teaching your children how to care for nature and be a bookworm, this is the perfect place to visit.
Central Public Library
Address: 100 Victoria St, #B1-01 National Library Building, Singapore (Google Maps)
Contact Details: enquiry@nlb.gov.sg
Link: Central Public Library
Singapore Zoo
For the animal lovers
To teach children how to appreciate nature, they must experience first-hand how it's like to be there, surrounded by flora and fauna.
While most zoos around the world keep animals caged, award-winning Singapore Zoo has embraced the 'open concept' where visitors are allowed to engage with animals. Families can enjoy their lunch with orangutans surrounding them (gasp!) and children can attend educational programs with guided tours and camps.
Singapore Zoo
Address: 80 Mandai Lake Rd, Singapore (Google Maps)
Contact Details: +65 6269 3411
Link: Singapore Zoo
Open Farm Community
For the future green advocates
Show children that loving Mother Earth and eating healthy doesn't have to be boring! You can visit the Open Farm Community where you can enjoy meals made from garden-to-table ingredients and attend workshops that promote balanced living.
This is a place to show children the benefits of recycling, reducing waste, caring for plants, and choosing healthier food options.
Open Farm Community
Address: 130E Minden Road, Singapore (Google Maps)
Contact Details: +65 6471 0306
Link: Open Farm Community
Jamie's Italian
For the healthy eaters
Did you know that Jamie Oliver started cooking when he was only 8 years old, while helping his parents at their restaurant? Eventually, his cooking show, cookbooks, and restaurants became an international success.
As a father of 5 young daughters, he seeks to make healthy food more palatable and appealing to children. This is why the kid's menu is full of delicious mains that come with a salad and a drink, plus yummy desserts to cap off a great meal.
Jamie's Italian
Address: 583 Orchard Road #01-01/04 Forum (Google Maps)
Contact Details: +65 6655 7676
Link: Jamie's Italian
Jacob Ballas Children's Garden
For the playful gardeners
This garden was specifically created for kids so this should be on top of every eco-friendly family's list! The aim of Jacob Ballas Children's Garden is to teach children the importance of taking care of nature and allow them to experience it by themselves. They can also learn tips on how to grow plants and try it at home.
Another major plus for this green play place? It's absolutely free!
Jacob Ballas' Children's Garden
Address: 481, Bukit Timah Road, Singapore (Google Maps)
Contact Details: +65 1800 471 7300
Link: Jacob Ballas' Children's Garden
Singapore Sports Hub
For the physically active
Physical play, being part of teams, and working with coaches help develop character, friendships, and endurance. At Singapore Sports Hub, children and teens are exposed to different types of sports like soccer, basketball, swimming, and karate. And while the kids are enjoying physical play time, parents can take some "me time" to work out or explore their own interests at gyms and studios or at home.
Building new skills is exciting for children especially when they know that they are learning and doing it with friends. Camps are scheduled all throughout the year, more details of which you can find on the link below.
Singapore Sports Hub
Address: 1 Stadium Drive Singapore (Google Maps)
Contact Details: +65 6653 8900
Link: Singapore Sports Hub
Bollywood Veggies
For the vegetable-lovers
It isn't called 'paradise on earth' for no reason. At Bollywood Veggies, families can stroll alongside lush, green trees, eat farm-fresh food, play games, and attend public events such as workshops and holiday camps for kids. It's the perfect place to bond and learn together as a family.
Bollywood Veggies
Address: 100 Neo Tiew Rd, Singapore (Google Maps)
Contact Details: +65 9452 6202
Link: Bollywood Veggies
Play is essential to children's development because it contributes to their growth physically, mentally, and emotionally. Doing activities together is also a wonderful opportunity for parents and kids to engage and spend more time with each other. Now that you have this list, all you have to do is plan for your next fun and healthy adventure that both you and your kids will enjoy.
Did you know?
This article is part of The Mindful Living Guide to Singapore – your guide to happy, healthy, and mindful living in the red dot. Click here to discover places and mindful activities that you and your whole family can enjoy.