Top 10 Kids Yoga Classes in Singapore in 2021
Think adults are the only ones getting stressed out from daily tasks and activities? Think again. We often tend to see kids as young and carefree, not fully realizing that the little ones get stressed out too! Whether it's from school work or their relationship with classmates and friends, this stress can make it difficult for kids to focus, relax, and process and express their emotions. This is where yoga and mindfulness come in.
While there's no shortage of yoga studios or meditation centres in Singapore, not all of them offer classes that are designed specifically with the little ones in mind. If you're looking to guide your kids onto a mindful path, or simply to introduce them to the world of yoga, here are some kids yoga classes and studios to help jumpstart your search.
This article is part of our Mindful Living Guide to Singapore with tons of tips for happy, healthy and mindful living in Singapore.
OhmSantih Yoga School
For Creative & Customized Classes
OhmSantih Yoga School offers classes for kids aged 3 to 13, divided into three age groups (3-6, 6-9, and 9-13). Even though every class follows a theme, ideas and suggestions from the kids' imagination are incorporated into the session. This is why OhmSantih says "no two classes would be the same." Think jungle adventures, but with mindful activities and yoga poses and breathing exercises thrown into the mix.
They follow a maximum number of six kids per hour-long class (appointment required) to ensure your child gets proper attention and the class stays highly interactive. You can also book private, one-on-one classes at the studio or right at your own home.
Ohm Santih Yoga School
Address: 219 Jalan Kayu, #02-01 (Google Maps)
Phone: +65 9040 8379
Links: Website, Facebook, Instagram
Vyasa Yoga & Ayurveda
For Developing Kids' Bodies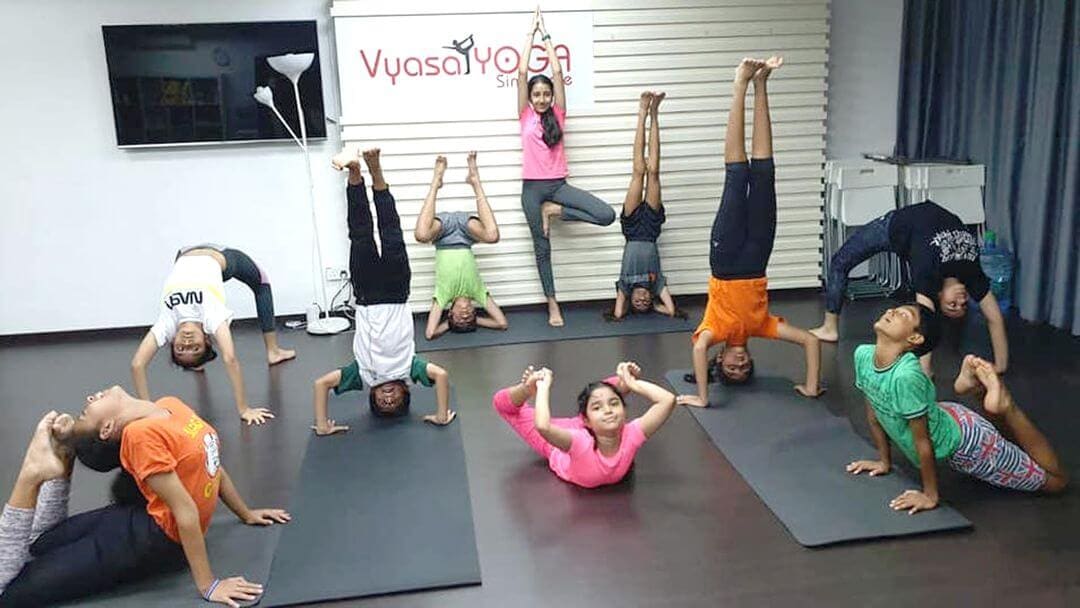 The classes at Vyasa Yoga gives kids a good intro to yoga asana and pranayama, while still keeping things fun. Here they will learn Sun Salutations, basic yoga postures, and pranayama and breathing exercises, to name a few. If this all sounds "too serious" for you, don't worry! They use yoga-inspired games to teach kids and young teens all these things, so rest assured they'll be having fun while also learning how to focus, relax, and gain body awareness and flexibility.
Vyasa Yoga & Ayurveda Singapore
Address: Civil Service Club #03/05, 60 Tessensohn Road (Google Maps)
Phone: +65 9626 2425
Links: Website, Facebook, Instagram, YouTube
Inspire Mum & Baby
For Children of ALL Ages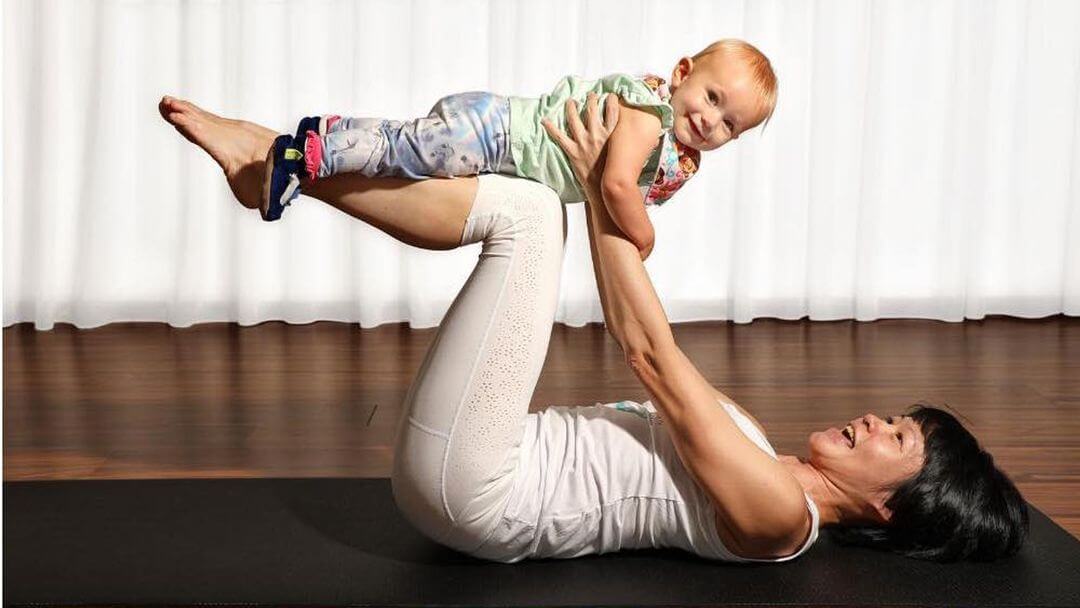 Inspire Mum & Baby is one of the few holistic fitness and therapy centres in Singapore that offer not just kids yoga classes, but also mommy-baby yoga for toddlers and even babies. Their toddler yoga classes focus more on expression through movement and playful contact between parent and child, while the kids yoga classes are a fun mix of music, fitness, creative storytelling, and more.
Baby, toddler, and kids yoga classes are kept small and you also have the option to book a private class at home. So if you want to get your little one started early on the many benefits of yoga, you know where to go!
Inspire Mum & Baby
Address: 188-2 Tanjong Katong Rd (Google Maps)
Phone: +65 9234 1866
Links: Website, Facebook, Instagram
Ananda Marga Yoga Society
For Breathing & Relaxation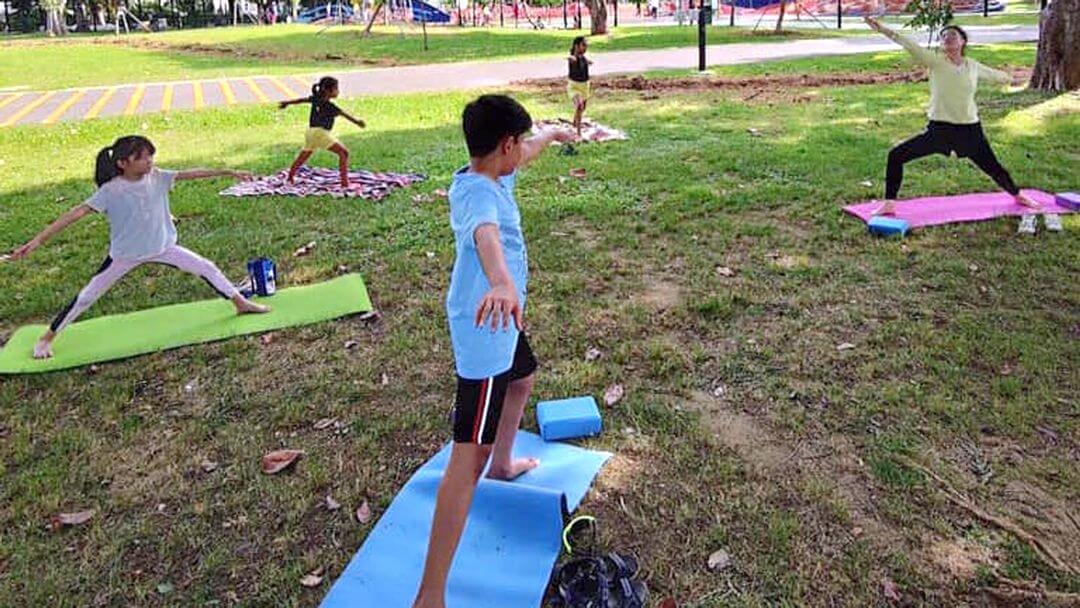 When kids get stressed out, they oftentimes don't quite know how to express this and how to find relief. Ananda Marga Yoga Society offers classes for kids and teens to help them de-stress and relax through breathing techniques and yoga asanas. Their classes are categorized according to age group (5-7 years, 8-12 years, 13-19 years) so they're designed for effective, age-appropriate learning techniques.
Note that Ananda Marga's kids and teens yoga classes only allow a maximum of 12 students per class to ensure interactive quality time between teacher and students.
Ananda Marga Yoga Society
Address: 18 Waringin Park Sin Chuan Garden (Google Maps)
Phone: +65 6344 6519
Links: Website, Facebook, Instagram, YouTube
Sweatbox Yoga
For Yoga Through Fun & Play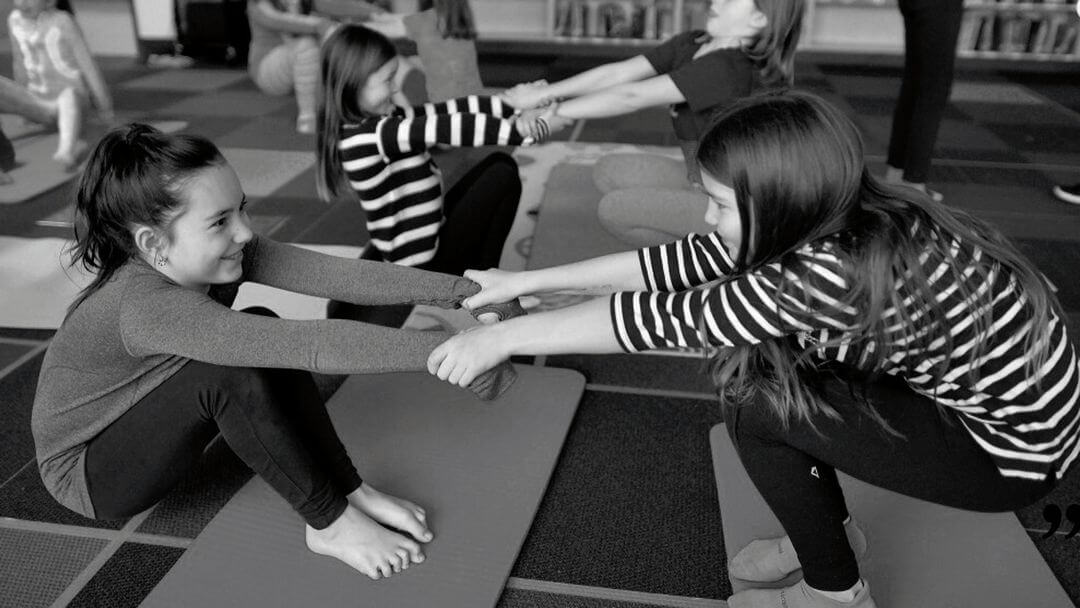 Dynamic, interactive, and imaginative—this is how this boutique yoga studio wants their young students aged 7-10 to experience yoga. In fact, they've made it their objective to NOT teach the kids challenging yoga poses because they want the focus to be on stress relief, body awareness, learning self-control, and relaxation. So while your kids will learn yoga poses, they'll do so with no pressure and through cooperative play.
Sweatbox Yoga
Address: Multiple Branches (Orchard, OUE Downtown, Bukit Timah, Tras Street)
Phone: +65 6468 0836
Links: Website, Facebook, Instagram
Canvass Mindfulness Training Centre
For Kids Who Love Creating Art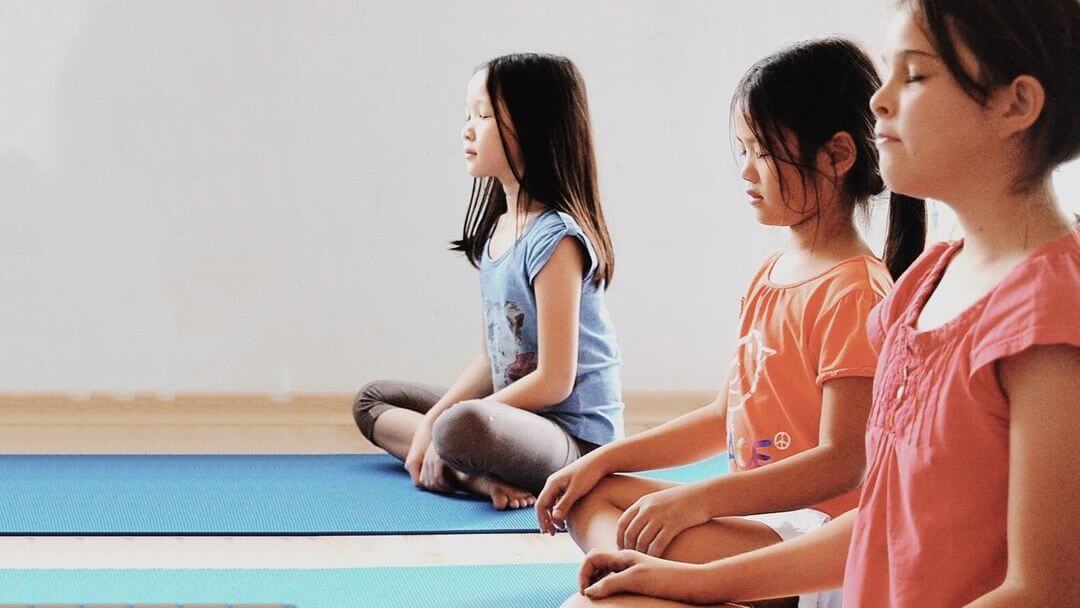 Although Canvass identifies more as a mindfulness training centre than just a yoga studio, the practice of yoga is an integral part of their philosophy. Their class called "Movement, Art, Mindfulness" is offered for two age groups: 4-9 and 9-14. It's a mix of yoga, art, and storytelling, making it ideal for kids who like to get creative while learning mindfulness, self-awareness and mind-body balance.
Parents might also be glad to know that Canvass gives a progress report after the first class and every class the child takes thereafter, so you know how your kids are getting along and thriving on the path to mindfulness.
Canvass Mindfulness Training Centre
Address: 5A Binjai Park (Google Maps)
Phone: +65 8522 2940
Links: Website, Facebook, Instagram
Joyful Blossom Yoga Dance
For Family Yoga Fun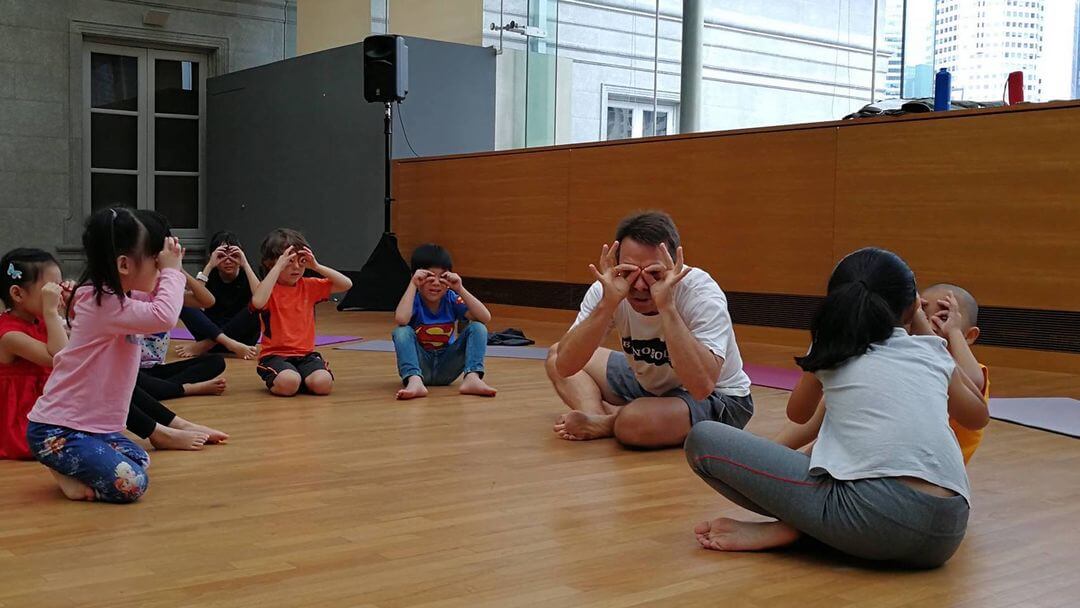 Some kids can be quite shy or reluctant when it comes to taking new classes with other kids. Sound familiar? If so, you should check out Joyful Blossom Yoga Dance in Little India. They offer kids yoga classes where parents are also welcome to join in, so you can help make your child get more comfortable while also spending fun, quality time with them.
Featuring different themes for every class, kids will learn creative yoga poses and breathing exercises in a non-competitive environment, as well as how to cultivate mindfulness, balance, kindness, and gratitude in daily life.
Joyful Blossom Yoga Dance
Address: 22 Petain Road (Google Maps)
Phone: +65 8255 6603
Links: Website, Facebook, Instagram, YouTube
So Yoga
For Kids With Special Needs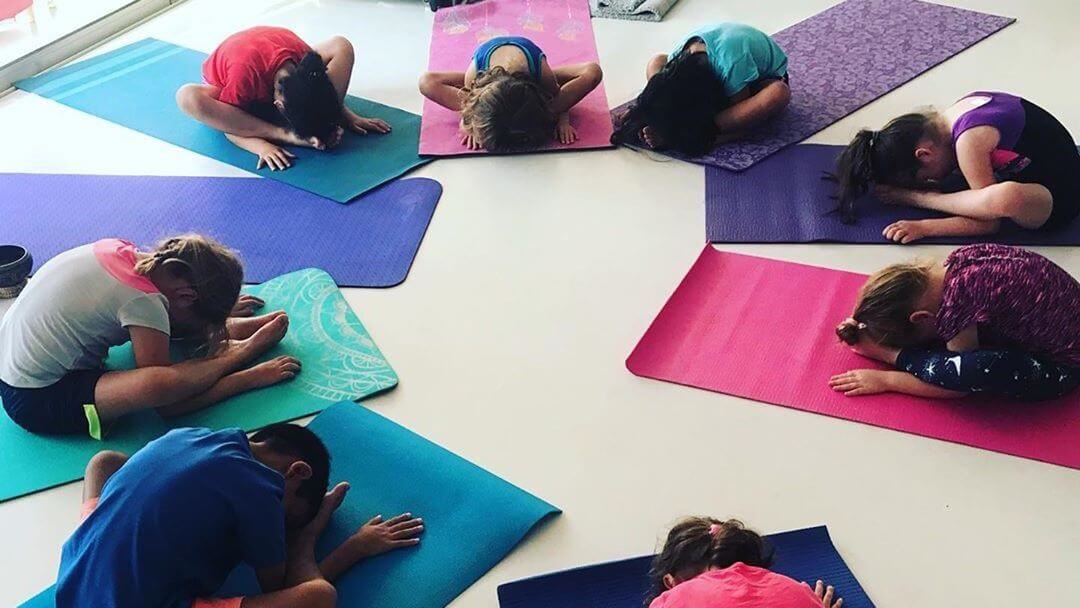 Founded in 2014 by yoga teacher and kids yoga book author Sophie Spoor, So Yoga is all about bringing fun, happiness, peace, and relaxation to kids and teens, adults, and families through the wonderful practice of yoga.
So Yoga is among the few studios in Singapore that offer classes for kids with ADHD, ASD (Autism Spectrum Disorder), and other mild to severe developmental conditions. These classes are taught by Sophie, who is also a Certified Special Needs Kids Yoga instructor. Fun fact: aside from private classes, you can also book So Yoga for a yoga-themed birthday party for your mini yogi as long as they're aged 3 to 12 (and with maximum 12 kids/students for the party).
So Yoga
Address: 920 East Coast Parkway (Google Maps)
Phone: +65 9632 4032
Links: Website, Facebook, Instagram, YouTube
Mini Glow Yoga Club
For Toddlers and Up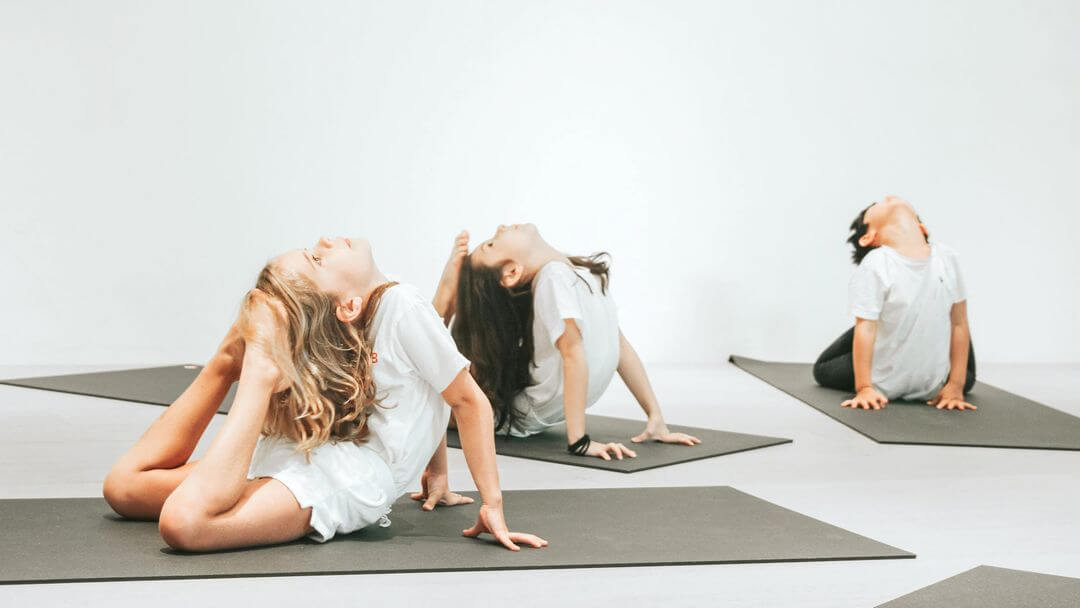 Mini Glow Yoga Club is the kids yoga branch of Hom Yoga, with classes held at Hom Yoga studios at River Valley and Orchard. Want to start your kids young on the yoga and mindfulness path? If your child is at least 18 months old, you can already get started on that with Mini Glow Yoga Club.
They offer toddlers and kids yoga according to age group: 18 months to 3 years, 4–6 years, and 7–11 years. Toddlers yoga classes are all about connection, mindfulness, and relaxation for parent and child. The kids yoga classes, on the other hand, start to delve into breathing techniques, imagination, and learning yoga poses for strength, flexibility, and balance.
Mini Glow Yoga Club
Address: 491 River Valley Road, Valley Point #01-18/19 (Google Maps)
Phone: +65 6219 0330
Links: Website, Facebook, Instagram
Como Shambhala
For Nature-Loving Kids and Teens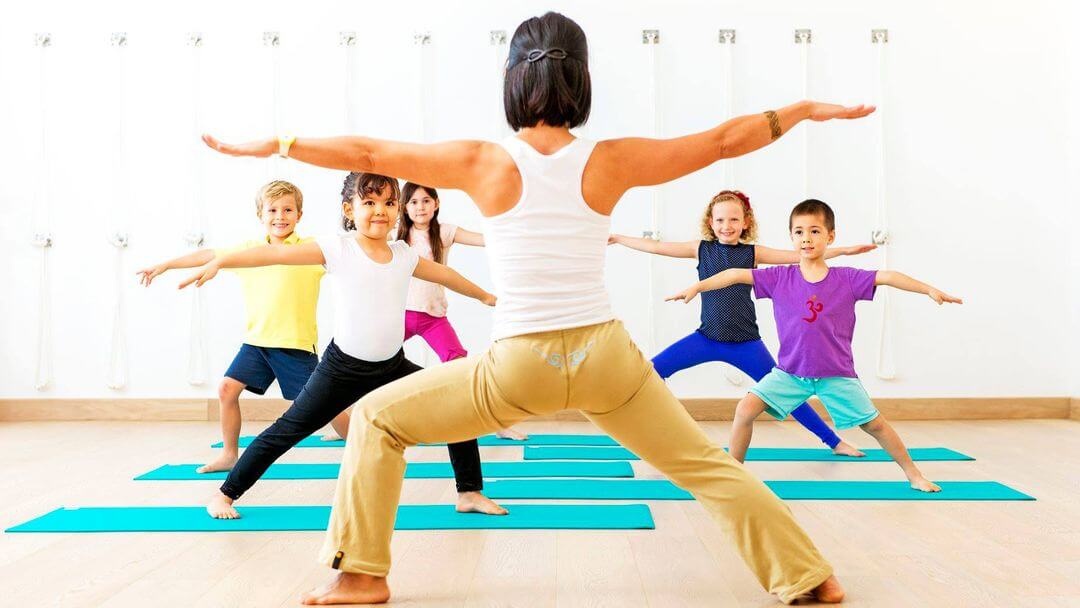 Also featured on our list of top yoga studios in Singapore, Como Shambhala Urban Escape offers yoga for teens of 12 to 18 years, and kids aged 5 to 11. The kids yoga classes are adapted from the YogaKids International program, and facilitators are also trained to teach yoga for kids with special needs.
Another cool thing about kids yoga classes at Como Shambhala is that poses are named after flora and fauna, so children will learn about nature while gaining body awareness and having fun. The goal is not to get kids in bendy shapes, but rather to get them interested in yoga as a way to relax, release stress, and engage in mindful play. You can find more details at the Como Shambhala website below.
Como Shambhala Urban Escape
Address: 402 Orchard Road, #06-01/02 Delfi Orchard (Google Maps)
Phone: +65 6304 3552
Links: Website, Facebook, Instagram
There are so many benefits kids can gain from practicing yoga that go beyond the physical. Let your child relax, release any pent up stress and energy, and maybe even join them for a class or two—in case you could use a bit of healing and some of that stress relief too.
Did you know?
This article is part of The Mindful Living Guide to Singapore – your guide to happy, healthy, and mindful living in the red dot. Click here to discover places and mindful activities that you and your whole family can enjoy.