There's indoor cycling, Pilates, pole dancing, and countless types of fitness and wellness classes offered at meditation and yoga studios in Singapore. But for many, nothing still compares to the good old feeling of pounding the pavement while working up a sweat.
If you've mostly been running around your neighborhood or street blocks and want something more scenic, this list is for you. Singapore has a lot of running routes that wind around parks, nature reserves, and beautiful bodies of water. Whether you're keen for just a quick jog or a longer daily run, there are trails on this list that's perfect for you.
This article is part of our Mindful Living Guide to Singapore with tons of tips for happy, healthy and mindful living in Singapore.
Fort Canning Park
For the City Dwellers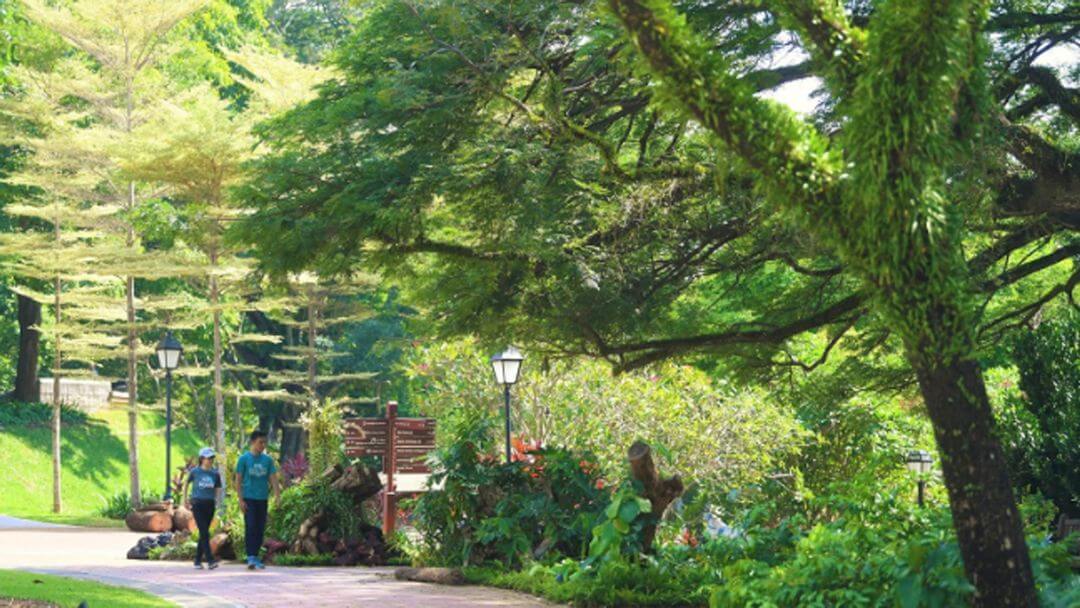 Fort Canning Park has 18 hectares of history-rich hilltop land, and covers nine historical gardens. Because of its convenient, central location, the park's 2-kilometer trail is a popular running route for busy bees who work and live in the CBD area. The 2-kilometer loop comprises shaded paved walkways, cobblestone paths, and stairs and inclines, giving you variety in running terrain.
Throughout this trail you'll see colonial structures and historical landmarks like remnants of the fort wall and gate built in the 1860s and 1920s. Need a breather? You can stop and enjoy the calming greenery of beautiful gardens found within the park. The expansive lawns also make Fort Canning Park a popular venue for concerts, outdoor theatre, and various celebrations.
Fort Canning Park
Address: River Valley Rd (Google Maps)
Links: More info on Fort Canning Park
East Coast Park
For Beach Lovers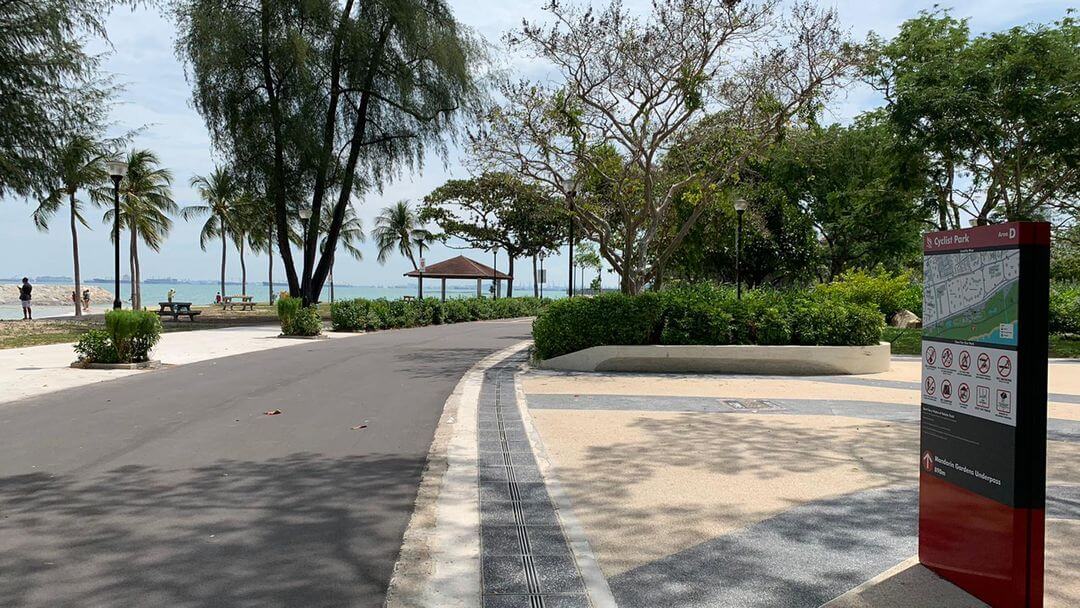 If you casually walk up to anyone here and ask where's a good place to run or cycle, East Coast Park is inevitably one of the places you'll hear. This is partly because the 15-kilometer track is often used for marathon events, and let's face it—who doesn't like having a view of the beach?
East Coast Park is also a popular spot for families because it has something for everyone; a playground, dedicated areas for skateboarding and water sports, fishing and camping areas, stores and restaurants along the boardwalk, etc. So you can head out there simply for a run, or make a day out of it with friends or family and make the most of everything the park has to offer.
East Coast Park
Address: East Coast Park Service Rd (Google Maps)
Links: More info on East Coast Park
Green Corridor
For History Buffs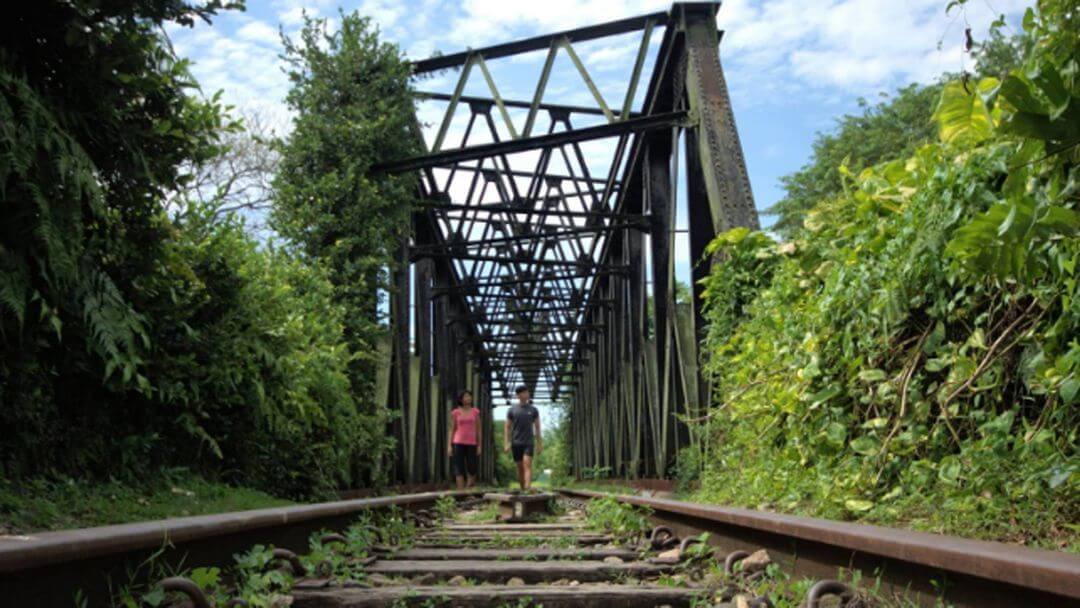 The Green Corridor is a 10.5-kilometer stretch of uninterrupted trail that runs from the old Tanjong Pagar railway station in the south, up to the old Bukit Timah railway station. Ideal for running and cycling, this old rail network has been repurposed to showcase historical artefacts and varieties of flora and fauna, and give Singaporeans a "green corridor" that runs through the city.
As of writing, it's an ongoing ecological and historical conservation project, so make sure to check if there are sections closed off so you can plan your route accordingly. You'll be running on grass and gravel through lush greenery with old railway bridges and historical rail stations along the way.
Green Corridor
Address: Accessible through various points (Google Maps)
Links: More info on the Green Corridor
The Southern Ridges
For a Great View of the City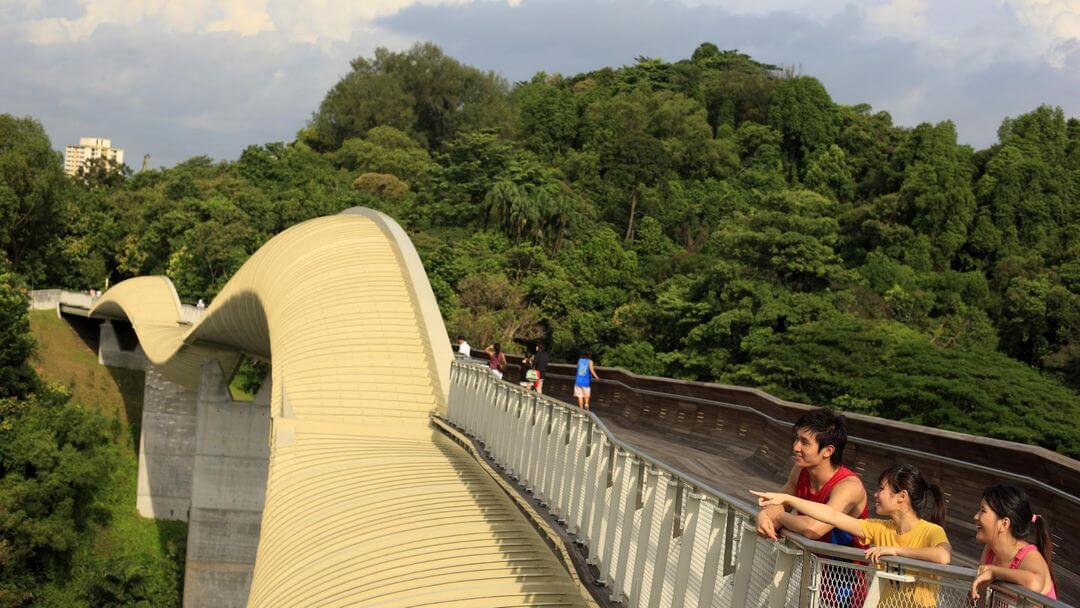 The Southern Ridges is an awesome trail for those who love running, nature, and panoramic city views. It spans 10 kilometers and connects Labrador Nature Reserve, HortPark, Kent Ridge Park, Telok Blangah Hill Park, and Mount Faber Park.
One of our favorite parts of the entire trail is the Henderson Waves. It connects Mount Faber Park to Telok Blangah Hill Park and is the highest pedestrian bridge in Singapore. As its name implies, this walkway is famous for its undulating wave-like architecture, and is a great spot for shutterbugs who want to capture the city views at sunset. The Southern Ridges covers winding routes, inclined paths, and staircases in some parts—making it ideal for those who want more than flat trails and walkways.
The Southern Ridges
Address: Multiple entry points (Google Maps)
Links: More info on The Southern Ridges
MacRitchie Reservoir Park
The Local Favorite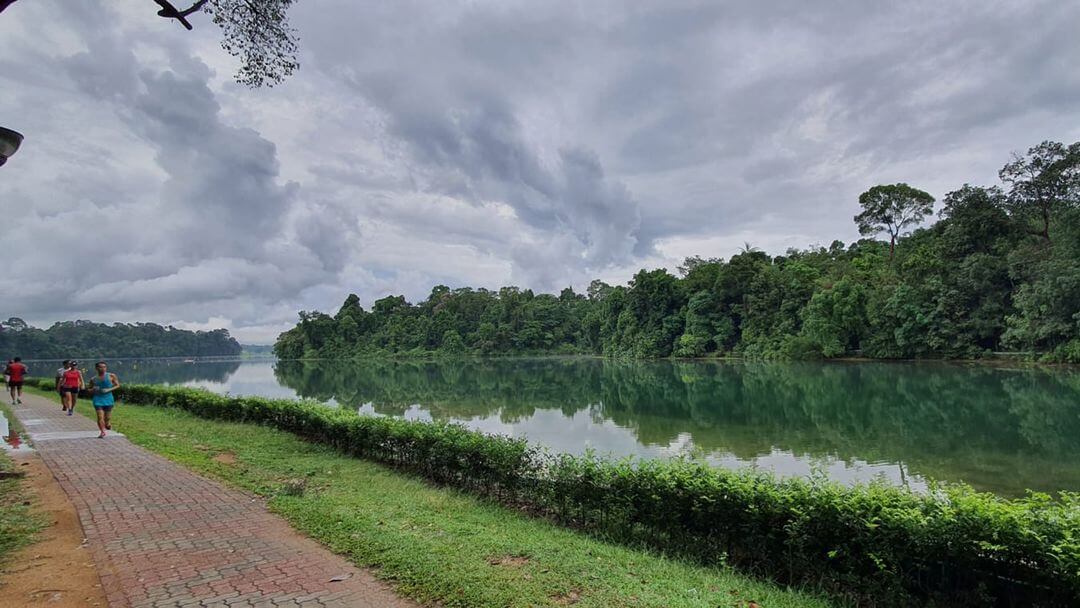 We'd be remiss if we didn't include what is arguably the most popular running trail in the country, which runs around Singapore's oldest reservoir built in the 1860s. The MacRitchie Reservoir Park is an old favorite among runners and athletes, and offers 10.6 kilometers of running trail that loops around the reservoir. You can either follow the boardwalk for an easier, flat surface or take the dirt path for an extra challenge.
You can also go fishing, rent canoes and kayaks, and head to the amenities centre where they have lockers, shower rooms, and food kiosks to rest up and re-fuel. Also check out the Treetop Walk, a suspension bridge 25 meters above the ground that connects the two highest points in the reservoir (Bukit Peirce and Bukit Kalang).
MacRitchie Reservoir Park
Address: Lornie Rd (Google Maps)
Phone: +65 6353 3220
Links: More info on MacRitchie Reservoir Park
100Plus Promenade
For Your Rainy Day Runs
While this one is more track than trail, it still deserves a spot on our list in case you need to run and exercise when the weather isn't so great. As of writing, the 100Plus Promenade is one of only two indoor or sheltered tracks in the country (the other one being the one-kilometer track on the 5th floor of Our Tampines Hub).
The 100Plus Promenade is a three-lane track that spans 900 meters and goes around the National Stadium. It's free for public use and is open 24 hours a day. It's located on the 3rd level of the National Stadium, and you can also drop by the Exercise & Fitness stations located on the same level if you feel like warming up!
100 Plus Promenade
Address: Stadium Boulevard, Kallang (Google Maps)
Phone: +65 6653 8900
Links: More info on Singapore Sports Hub
Punggol Waterway Park
For the Sunrise Chasers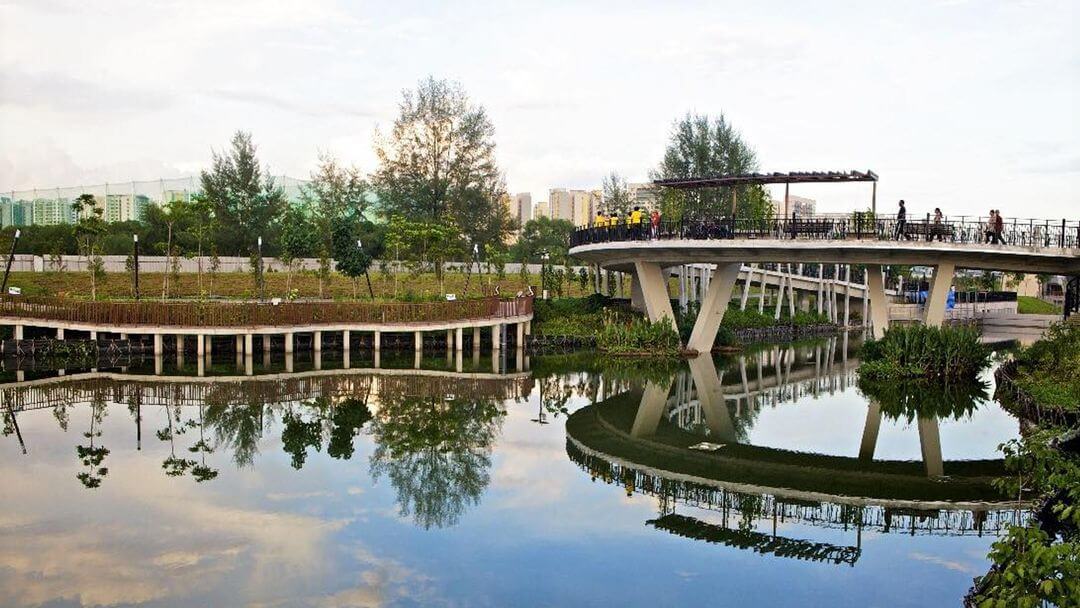 The 8.2-kilometer running trail at Punggol Waterway Park is a great route to take no matter what time of day you want to run. There are concrete paths on both sides of the waterway, and restaurants at both ends that you can stop and grab a bite at if you get tired and hungry.
There's also an area in the park called Sunrise Point, which, as you can guess, is a great spot to catch the sunrise. If the 8.2-kilometer trail is too short for you, keep going and you'll find the waterway link to Lorong Halus Wetland Park. From there, you can continue your route on to Pasir Ris Park.
Punggol Waterway Park
Address: Sentul Crescent (Google Maps)
Links: More info on Punggol Waterway Park
Central Urban Loop
For Distance Runners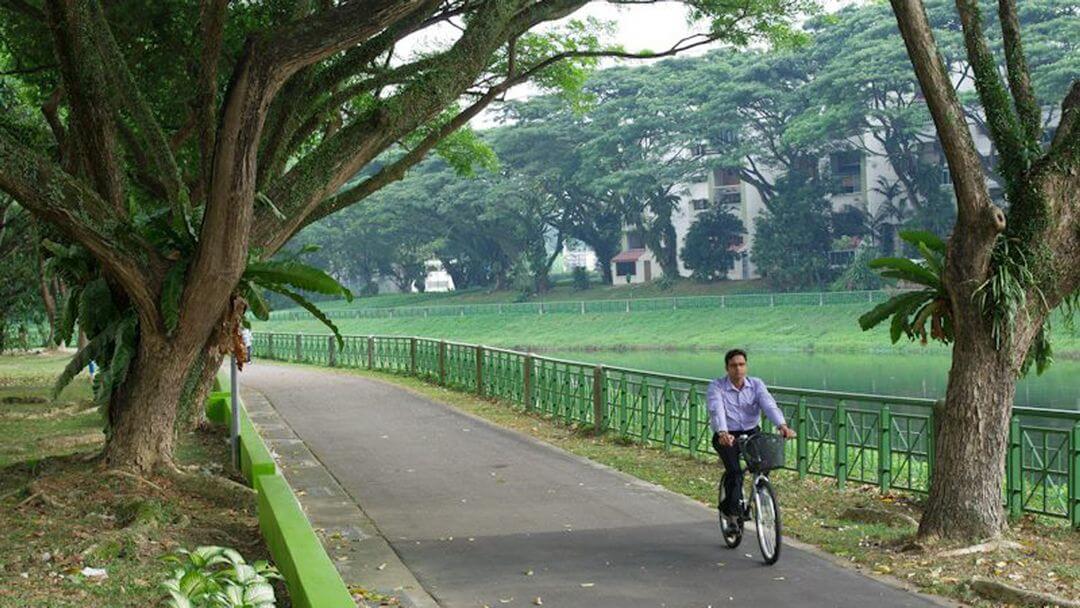 If you prefer longer distances, the Central Urban Loop offers about 36 kilometers of running trail that starts at Toa Payoh Town Park and ends at Punggol Park. It's part of the 300 kilometer-long Park Connector Network designed by National Parks to make parks and green spaces more accessible to residents no matter where they live.
This scenic trail winds through different towns, parks, and neighborhoods in the central area, including HDB housing estates and hawker centers in Whampoa and Ang Mo Kio. If you want to go for a long, night run while exploring neighborhoods in Singapore's central area, this trail is perfect for you.
Central Urban Loop
Address: Lorong 6 Toa Payoh starting point (Google Maps)
Links: Central Urban Loop Guide
Pasir Ris Park
For Family-Friendly Fun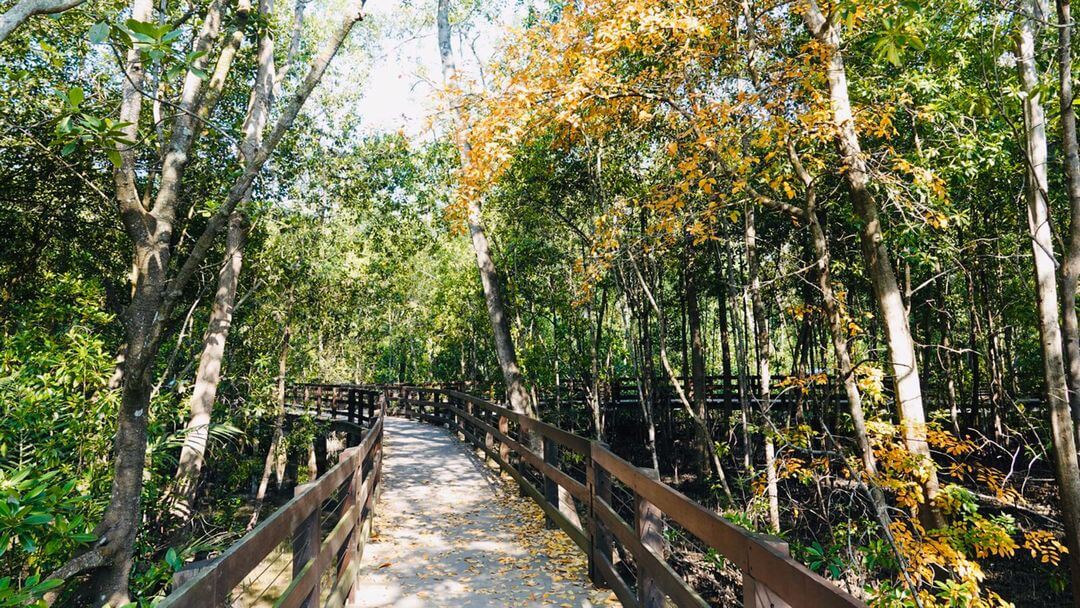 Like the other parks mentioned above, Pasir Ris Park also boasts of lush greenery and nature views while offering modern facilities that people of all ages can enjoy. It's a bit like East Coast Park in that it's also a coastal park where you can go camping, do water sports, go bird watching, and even have the kids go on pony rides at the Gallop Stables. It's one of the biggest parks in Singapore, and features a mangrove forest that spans six hectares.
Running along the park's coastal stretch will get you a distance of about 3.4 kilometers, but you can easily extend your route by exploring the various trails and paths within the park, including the Mangrove Boardwalk.
Pasir Ris Park
Address: Pasir Ris Road (Google Maps)
Links: More info on Pasir Ris Park
Marina Bay Waterfront & Gardens by the Bay
For the Cityscape Explorers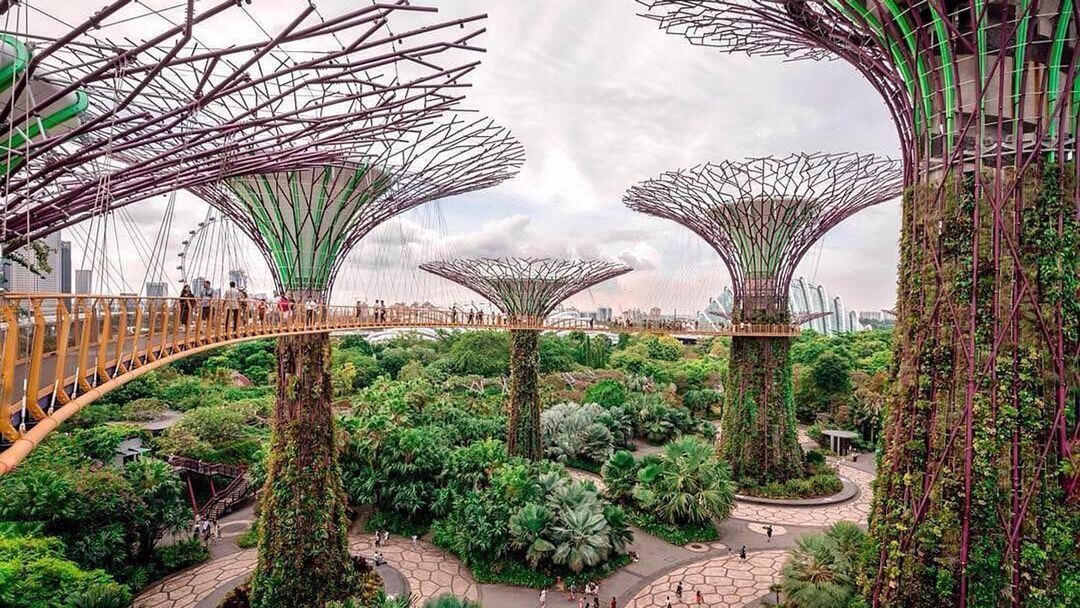 The Marina Bay Waterfront is a popular after-work running spot for city dwellers and business folks. Why? Because aside from its central location, it's also simply a nice place to go for a run in the evening. As you run along the 3.5-kilometer loop, you'll pass through iconic Singaporean landmarks like the Merlion and the Helix Bridge. If you want a longer run, simply head to Gardens by the Bay where you can gaze up at the towering trees and marvel at sculptures and art installations along the paths.
If you want to avoid crowds of tourists at these landmarks, we suggest heading further out to the Marina Barrage and onto the Bay East Garden. Here you can have a more serene running experience while still enjoying the view of skyscrapers and the city skyline.
Marina Bay Promenade & Gardens by the Bay
Phone: +65 6420 6848
Address: 18 Marina Gardens Drive (Google Maps)
Links: More info on Gardens by the Bay, Instagram
As you can see, there are a lot of routes and trails you can explore here. At this rate, we haven't even covered the islands! With the country's extensive network of parks, and the ongoing nature conservation and land rehabilitation efforts, you'll never run out of trail options in Singapore—whether it's for a quick jog or your routine morning or evening run.
Did you know?
This article is part of The Mindful Living Guide to Singapore – your guide to happy, healthy, and mindful living in the red dot. Click here to discover places and mindful activities that you and your whole family can enjoy.