A couple of years ago when I was at Martha's Vineyard Writers Residency, the dessert and workout junkie in me decided to go for a walk and discover bakeries on the Island. The owner of one of the most famous ice cream parlors there didn't charge me for my order.
When I asked her why, she said, "You are the first person today to have walked into my store and said a 'please' and a 'thank you.' I am sick of people who come with a sense of entitlement and pretend as if gratitude is going out of fashion."
Growing Up Grateful
When my brother and I were little, my parents taught us to say "please" and "thank you" when appropriate. Ours was a fun and happy home, but there were no cutting corners with manners or etiquette.
In fact, my Dad was famous amongst all our friends for being the fun uncle who reiterated the power of expressing gratitude and its impact on enriching our lives. But you don't see the depth in simple yet relevant teachings when you're eight years old.
I grew into an optimistic, empathetic, and happy adult surrounded by friends and family and my boarding school upbringing mirrored what I was taught at home; I shared a "healthy" relationship with gratitude.
Be it my ability to join a college of my choice, take a two-week vacation, get a new job, revisit Paris several times, try out restaurants, or buy gifts for others, every time there was a reason, I expressed gratefulness with humility. But, the true meaning of gratitude, I didn't know until recently.
The Beginning of a Journey
Seven months ago, my mother died suddenly. As a writer and a poet, being sensitive to my surroundings comes with my profession.
I saw who was truly there for me and my family, who was looking for their share of the "I-know-the-deceased-better-than-you" pie, and who didn't think being there for someone hurting is part of a genuine friendship dynamic. I had put my life on hold to help these same people in their times of need.
I was angry Mom was gone while so many horrible human beings were alive. I was livid because I never got the chance to say goodbye to her. I was shattered that we would never be a complete family again.
Finding Grace
With all these raw thoughts and vulnerabilities traversing through me, my husband and I visited my friend Neetal and her family in Houston in August 2014. When we reached their home, Neetal's Mom hugged me. Aunty held me so tight that all my unsaid words and pain went away.
She cooked for us, gave me head oil massages, and said, "I will keep meals ready, beta (Hindi word for 'child'). You finish your work and go for yoga class."
As Houston and Aunty healed me, I conceded; there is a lot of good in the world. I had to look for it, because only that could shift my focus from what my life now lacked, to what still existed: my Dad, my husband, my brother, and numerous other friends and family.
Because I was so upset with those who had hurt me, I hadn't acknowledged those who did stand by me. I had failed to acknowledge how much good had come my way even during horrible times. By not being grateful for the positivity that did exist, I had unintentionally filled my life with negativity.
Ultimately, I was hurting because I had not made any room for true gratitude.
After my Mom's cremation, my 12-year-old niece, Sana, wiped my tears and said, "Bua (Hindi for 'Dad's sister'), Dadi (Hindi for 'paternal grandmother') is in a better place, we should be thankful." I didn't understand that my empathetic niece was explaining the true meaning of gratitude to me.
Acknowledging the Good
My Mom's passing was graceful, just like her. She looked perfect even in the morgue. At her cremation and funeral ceremony, hundreds of people surrounded her. She had spent her last few days in New Delhi with some of her closest relatives.
All of her last conversations and interactions were pleasant and positive. Not everybody is blessed with such an end.
Gratitude is not taking anything for granted—be it my ability to see or share memories of my Mom, to be so deeply loved by so many, or even to walk across the street.
Gratitude can't be about right occasions or positive experiences only, like when you're offered a free scoop of ice cream, a promotion, or a book deal. Gratitude is about acknowledging every good in every moment.
How Practicing Gratitude Has Changed Me
My life isn't perfect, but making gratitude an everyday practice has made me a better, calmer, happier, and more compassionate human being. It has made me a more thoughtful wife, daughter, sister, and friend. It has brought me closure.
Sure, it's an ongoing journey, and I do fall through the cracks. But I notice how practicing gratitude has changed my writing and relationship with my own self. Just by simply saying thanks, like a powerful and pure mantra, life feels richer.
And, on bad days and during rough times, I make a list of what is working for me. This simple activity makes the difficult times feel manageable. I also thank negative people for teaching me life lessons.
Melody Beattie was correct in saying: "Gratitude makes sense of our past, brings peace for today, and creates a vision for tomorrow."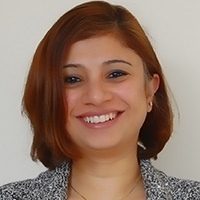 by Sweta Srivastava Vikram – NY-based Sweta is an award-winning writer, Amazon bestselling author, poet, freelance writer, and yogi. You can connect with her on Twitter and Facebook.
Want to contribute as a member of the DOYOU community too? Submit your article right here!