For many of us, the holidays are a magical time of year we spend connecting with friends and family, attending gatherings, sharing food and drinks, and exchanging gifts.
But with all of the excitement often comes a lot of stress and anxiety to wear the right cocktail dress, prepare the perfect meal, or pick the perfect present. It can be challenging to remember the true meaning of the holiday season—being present in the moment with peace and love.
In order to share that peace and love with others, you must stay centered and find it in yourself, too. But how do you maintain your centeredness when you feel like you're bouncing from one obligation to the next? Here are five tips to stay centered during the holidays.
1. Schedule time for your yoga practice.
When your schedule gets hectic, time for yourself is often the first to go. However, you will actually be able to give more of yourself to others if you make sure to give to yourself. So schedule time for your yoga practice in advance and stick to it.
If you know you have an evening engagement, plan to attend an early morning session. Avoid making excuses for missing your practice. You will feel more rejuvenated and emotionally available for having tended to your own needs.
2. Be flexible and open-minded!
You likely will not be able to maintain the same commitment as usual, so be flexible with your schedule. If you cannot attend your regular class, try a new class or studio that is more convenient. You may even find a new style that you want to practice more regularly!
Bring your yoga mat and a gym bag with you in your car so you can seize any opportunity to take a few moments for yourself. Even a short sun salutation series outside on a sunny winter day will leave you feeling more centered.
3. Try something different, like meditation.
Meditation isn't too time intensive and can be incredibly relaxing. Just take a few minutes (or even a few moments, if that's all you can spare) for some visualization. Allow your mind to go to a peaceful place; perhaps reflect on all your blessings.
An especially relaxing time for meditative reflection is in the bath or shower. Consider using aromatherapy bath and shower bombs with eucalyptus and lavender essential oils to enhance relaxation.
Another good time to practice meditation: when someone cuts you off in the Starbucks line, just take a deep breath and feel grateful you can afford that Pumpkin Spice Latte! If you need a little more structure, you can try reciting mantras, either silently or out loud.
4. Take deep breaths.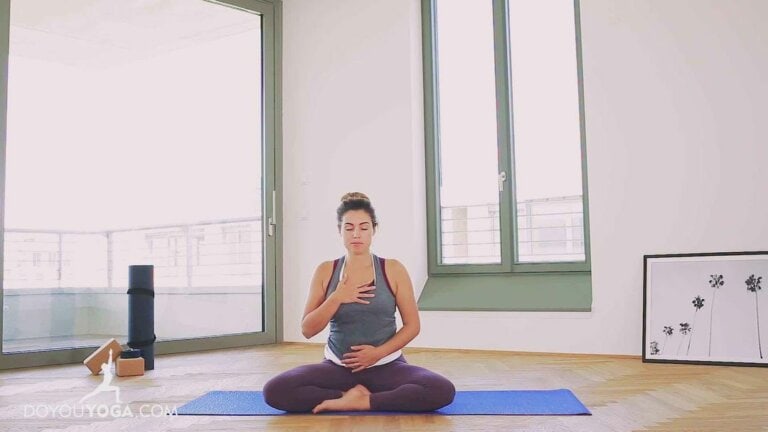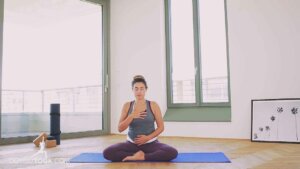 Pranayama, or yogic breath work, is a great way to encourage a calm and centered presence. Victory Breath and Bee Breath are two especially relaxing yogic breathing techniques. While practicing, avoid being judgmental of your performance or success.
Afterward, take time to note whether you have a calmer mind and appreciate how you feel.
5. Enjoy the season!
This is not the time of year to feel stressed or overwhelmed, so don't beat yourself up if you miss a class on your schedule. If you only find time for two practices instead of three, feel proud of your accomplishment.
Enjoy your friends and family, and enjoy yourself. Appreciate all of the wonderful moments you create with your healthy mind and body. Remember to be present in the moment with peace and love!
by Jenny DB – Jenny lives in Seattle with her two dogs, and enjoys yoga, crossfit, and outdoor sports in the Pacific Northwest. Jenny works for Kharma Khare, an innovative company that creates yoga mats from recycled rubber car tires in a patent-pending process that transforms waste to wonder.
Want to contribute as a member of the DOYOU community too? Submit your article right here!