1. Yoga Is For Everybody
There are no rules, no boundaries and definitely no age limits.
2. You Can Wear Whatever You Like
And as much as we all love wearing our stretchy pants…
Apparently there's a thing called "Yoga Jeans" now, so who needs those stretchy yoga pants?
3. You Can Practice Anywhere You Like
While you are out rock climbing…
On top of a train…
Underwater…
On the street…
At work…
Even on the subway.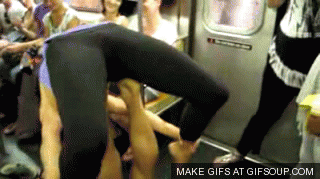 4. You Can Have A Yoga Themed Birthday
5. You Can Even Strike A Pose Or Two On Your Wedding Day
6. You Can Combine Yoga With Wine
7. Or With A Coffee Break
8. And It Makes You Feel Like You're Flying Sometimes
Via: totalprosports.com
9. You Can Practice With Anyone
With your kids.
And with your pets…
They might actually end up loving it more than you…
10. It's Yoga
No matter how, why or where you practice, it's easy to love yoga.
Via: Pinterest.com
And to all you yogi's out there…