The Intermediate Vinyasa Workshop
Ready to sweat? Salute the sun, glide through Warrior, and fly into Crow as you challenge the body.
54,879 others have joined.




5-Day
Program
Your personal coach. Reach your goals in less than 19 minutes per day.
Full Body
Transformation
Revolutionize your strength, flexibility, and balance. High level workouts for intermediate and advanced levels.
You Will Not
Quit
The DoYou method uses cognitive triggers and rewards to transform your habits (
read more
).
Get Stronger, Fitter, Healthier.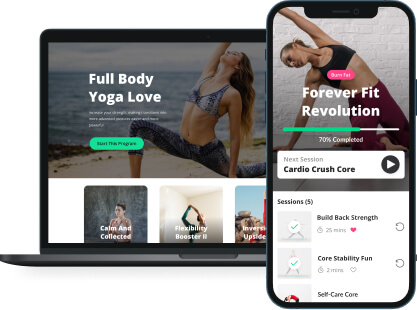 The Intermediate Vinyasa Workshop is a yogi's immersive guide to flowing with ease utilizing body mechanics and alignment to the fullest potential. With 5 classes at 15 minutes each, this program will provide some extra core, leg, and arm strength to boost your advanced pose repertoire to the next level. Yoga teacher extraordinaire, Liz Huntly, will lead you through transitions central to the Vinyasa style for strength, flexibility, and lightness of the body and mind. Get ready to find fluidity and transform your practice!