Thousands of people just like you are using a completely new way to get in shape and never lose motivation.
It's called the DoYou Method™ – The revolutionary science-backend app that over a million DoYou members use to transform their bodies, minds and lives.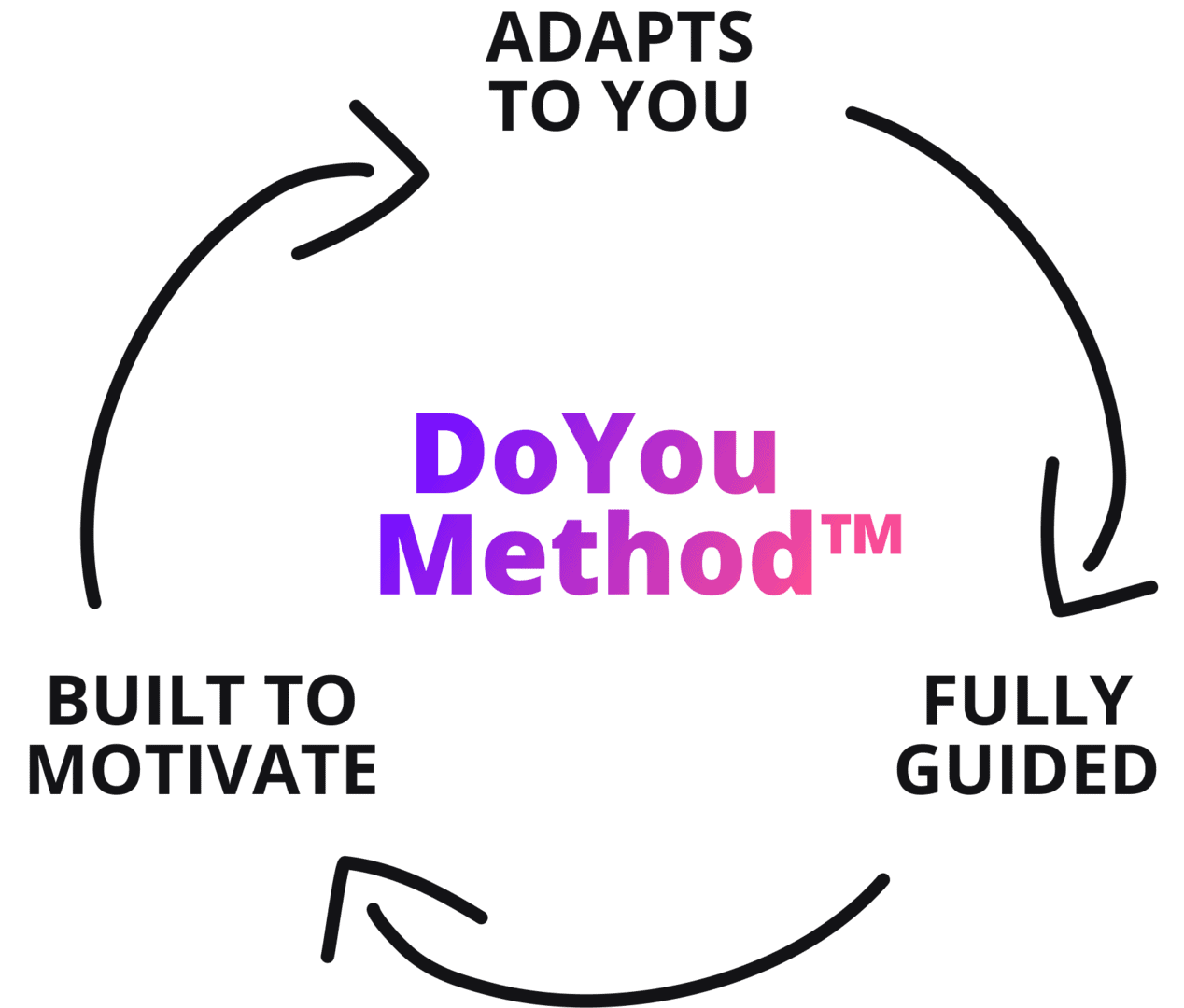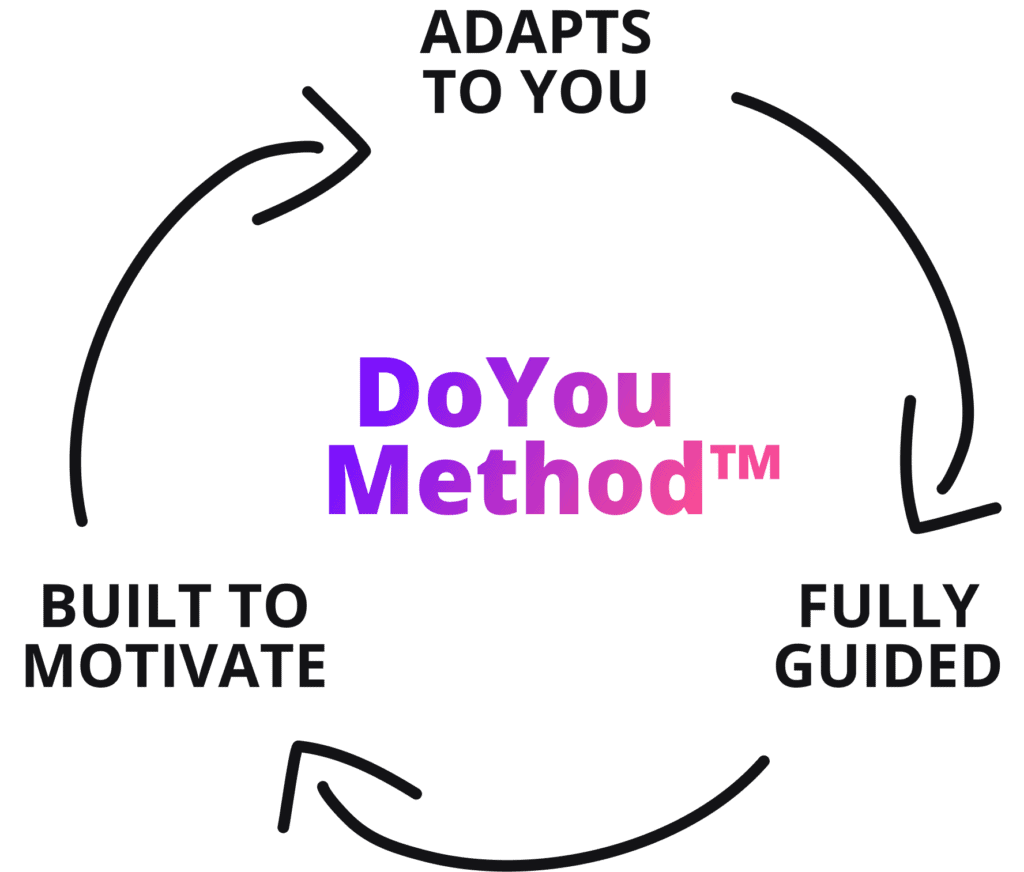 Do you want to change your life with yoga but don't know how?
The DoYou Method™ makes you 9x less likely to quit… because it manipulates your brain. In a good way!

"DoYou is a complete game changer… the method just works."
Linda from Atlanta, USA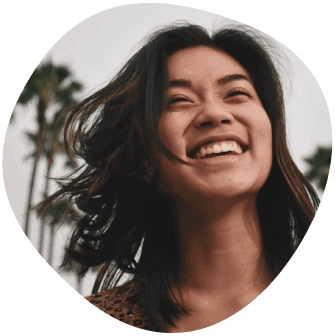 DoYou™ is the app that will make you fall in love with yoga… and yourself.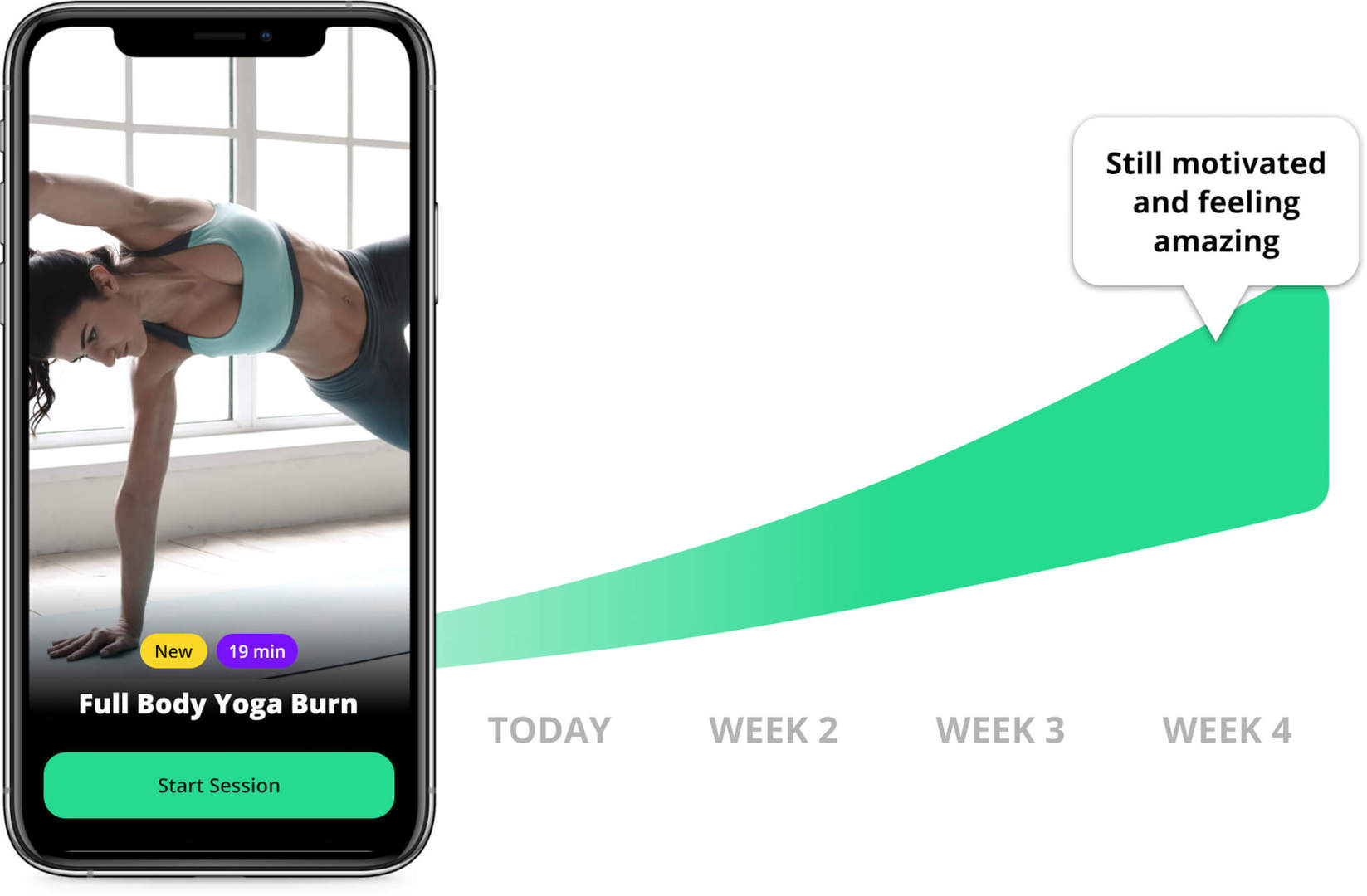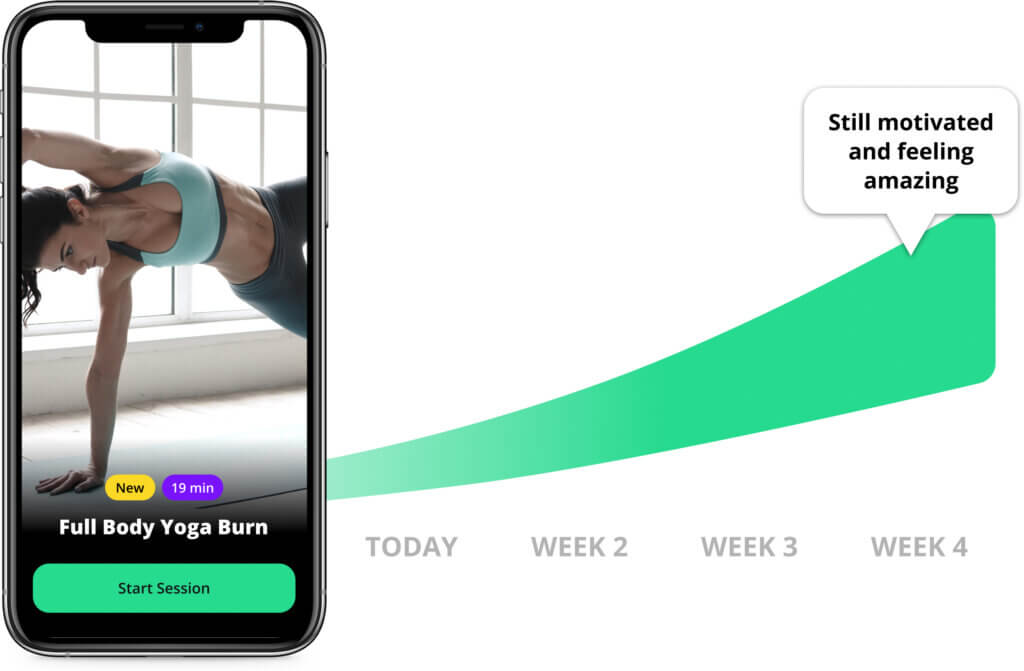 Scientific research proves that the key to seeing real results is a regular yoga practice. In fact, doing 8 minutes per day is twelve times more effective than doing an hour once a week. The DoYou Method™ was designed to help you achieve exactly that.
It adapts to your personal goal, level, and schedule, which means it is ultra efficient. Every minute you spend on DoYou takes you closer to your goal.
It guides you step-by-step, so you never get confused or discouraged. You will always know what to do next.
It keeps you motivated and feeling accomplished, by letting you track your progress and earn achievements along the way. Which means, this time you won't quit.
AS SEEN IN





If they can do it,
YOU can do it!
Over a million members …and counting.
The DoYou Method™ has worked for thousands of…
Workaholics & managers
Stay-at-home moms & dads
Healthcare & education workers
Entrepreneurs & freelancers
Service & sales workers
…and everyone in between!
Watch the video and see some of the members who are transforming their lives with DoYou right now.

DoYou completely adapts to YOUR goals and needs. It's like magic… made for you.
Science shows that you are 4x more likely to reach your goals if your practice is personalized to YOU. That's why YouTube and other apps don't get you any results. Yoga is not a one-size-fits-all deal.
That's why DoYou™ adapts to your personal goal, level, and schedule. No time wasted, no more quitting. It's like magic… except it's totally real!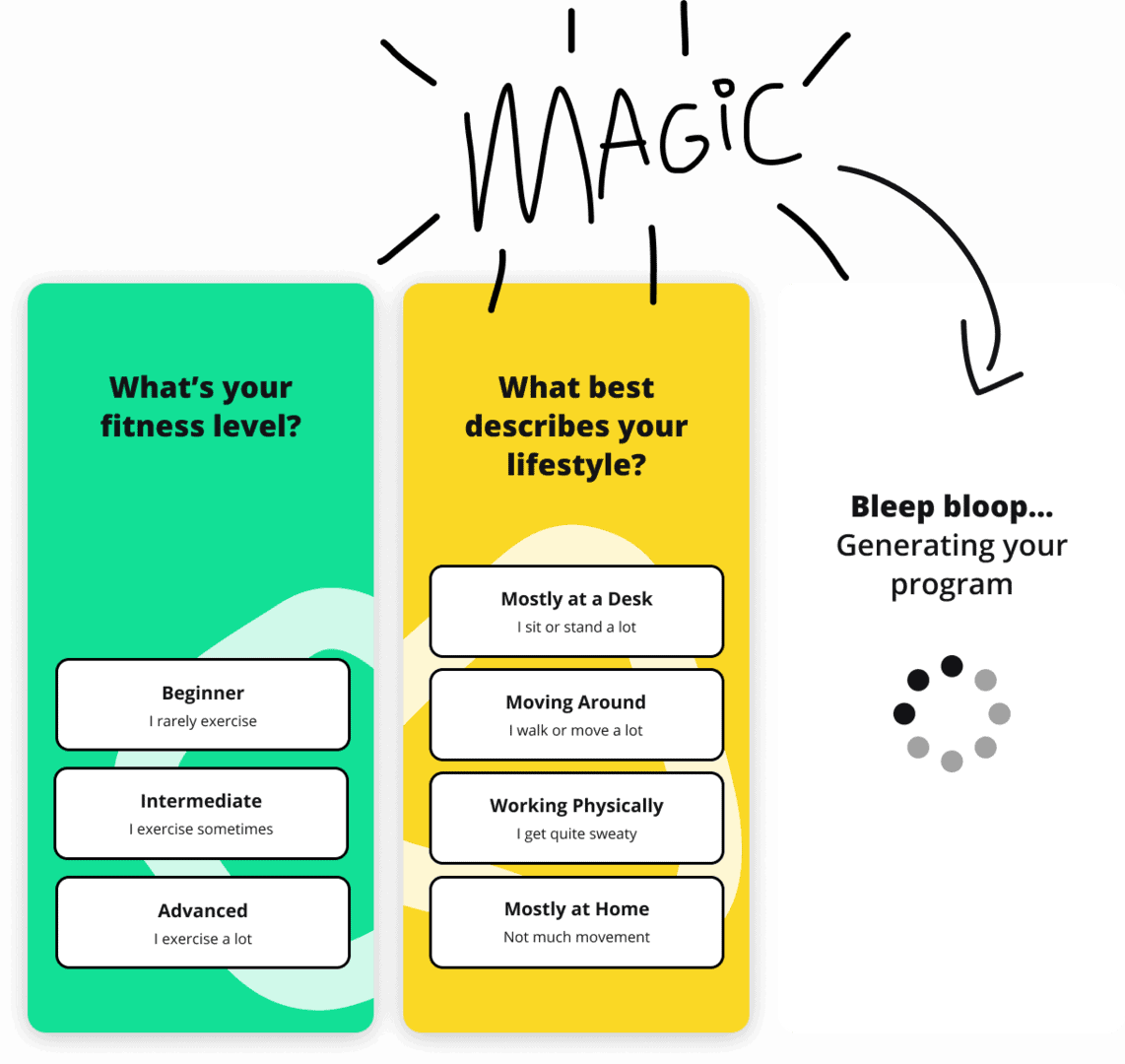 "I wasted so much time trying yoga on YouTube and other apps without getting anywhere. I wish I had found this app earlier!"
Samantha from Boston, USA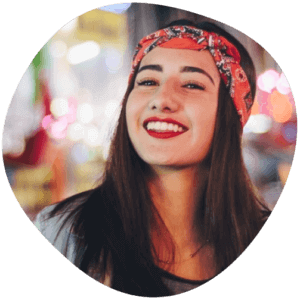 Always know what to do next. DoYou™ is your guide to a fit and healthy life.
Do you know that feeling when you want to take action and change your life but you just don't know where to start or what to do next?
We've asked thousands of members in our community and this is the main reason why YouTube and fancy yoga apps don't work. They don't guide you. You're completely on your own.
And THAT'S why they love the DoYou Method™. Because it is designed to guide you every step of the way, no matter where you are. You'll always know what to do next.
Whatever your goal is, you will be guided step-by-step
"Where do I even start?"… that's a question of the past! Because DoYou takes you by the hand and guides you on every step of your yoga and fitness journey. No more confusion and no quitting.




Imagine being coached by the world's most famous teachers
Our teachers have changed millions of lives. They know what it takes to help you reach your goals.
Our teachers have changed millions of lives. They know what it takes to help you reach your goals.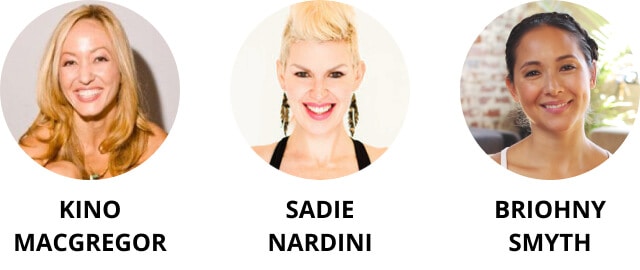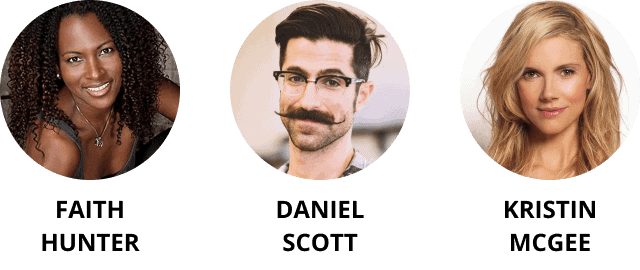 "I love that I don't have to worry about what to do. I just open the app and start my next session."
Laura from Newcastle, UK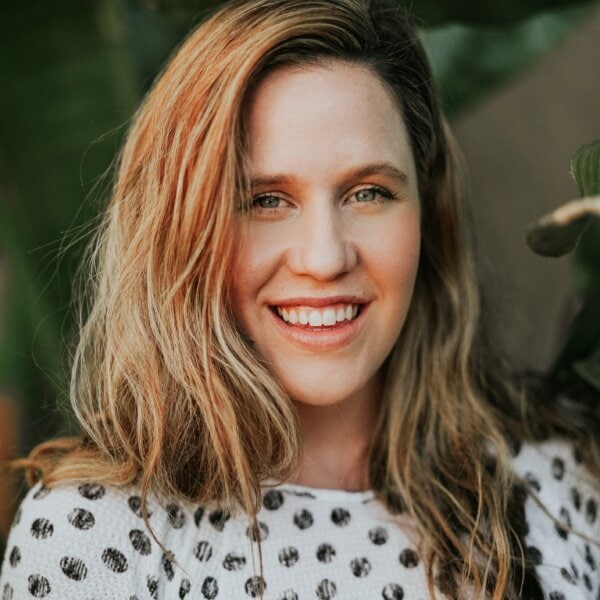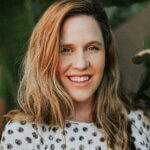 Worried about losing motivation?
Yep, we know!
Let's face it, with so many things going on in our lives, it's almost impossible to get and STAY motivated. We know, because our empirical research revealed that "lack of motivation" is the #1 most quoted reason why people quit and fail.
That's why the DoYou Method™ is scientifically engineered to keep you motivated. And not just that, we've done real life tests with over 10,000 DoYou members.
The result?
The DoYou Method™ makes you 9x less likely to quit… because it manipulates your brain 😱
Behavioral scientists have know this for decades: Rewards stimulate dopamine production (your feel-good hormone).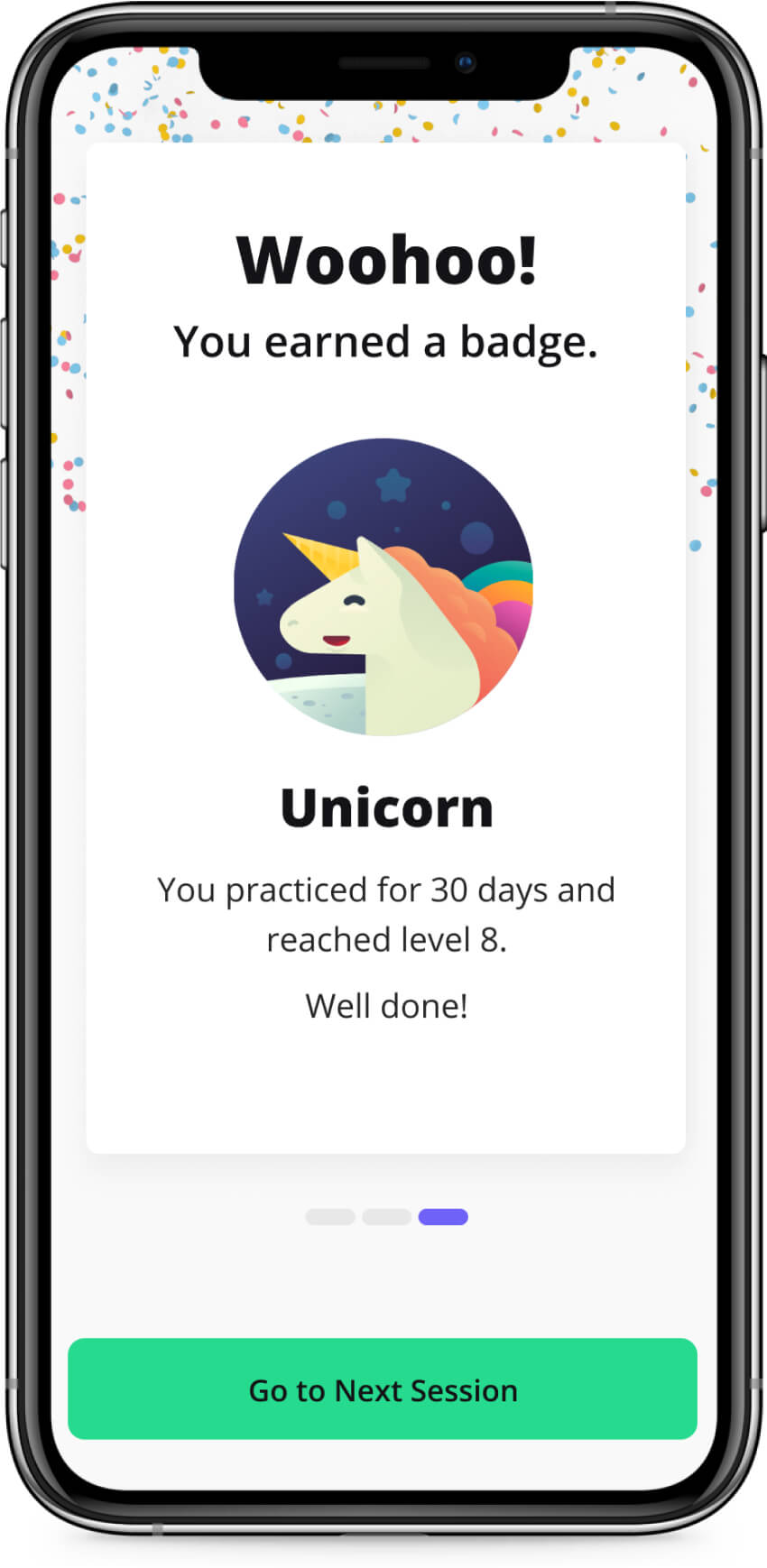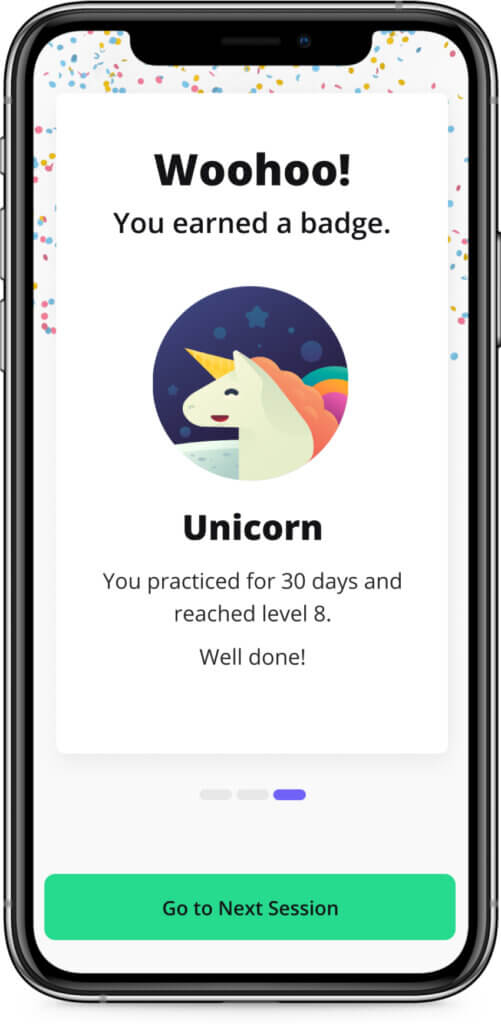 So what did we do? We added an incredibly fun achievement-system to the DoYou Method™. You get rewarded for logging sessions, level up, and earn achievements along the way.
By linking your practice with positive feelings of achievement, you form and strengthen new neural connections in your brain.
This means, with DoYou, your brain literally becomes addicted to yoga.
Imagine waking up in the morning and craving your first yoga session of the day. That's what DoYou feels like.

"I'm a mom of two toddlers and I'm on a 15-week yoga streak… DoYou is so motivating!"
Katharina from Munich, Germany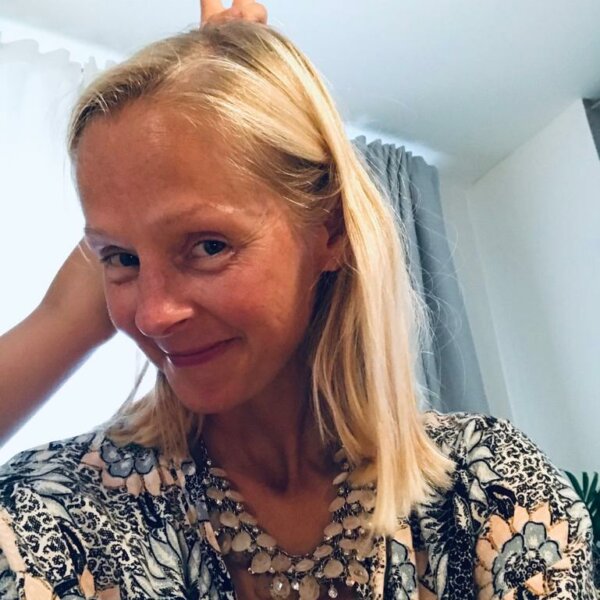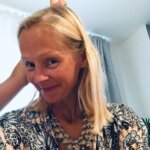 Life gets in the way?
DoYou™ is designed to fit into your busy lifestyle.
We get it… life gets in the way ALL THE TIME. The best yoga program is useless if you never use it, right? Things come up, plans change, kids get sick. It's a never-ending cycle.
So let's get real here for a minute. Getting up at 10am and meditating for an hour right before your 90-minute power yoga class… that's not real life. That's Instagram. But we didn't build this for Instagram.
We created DoYou™ for people like you – Your schedule, your time, and your life.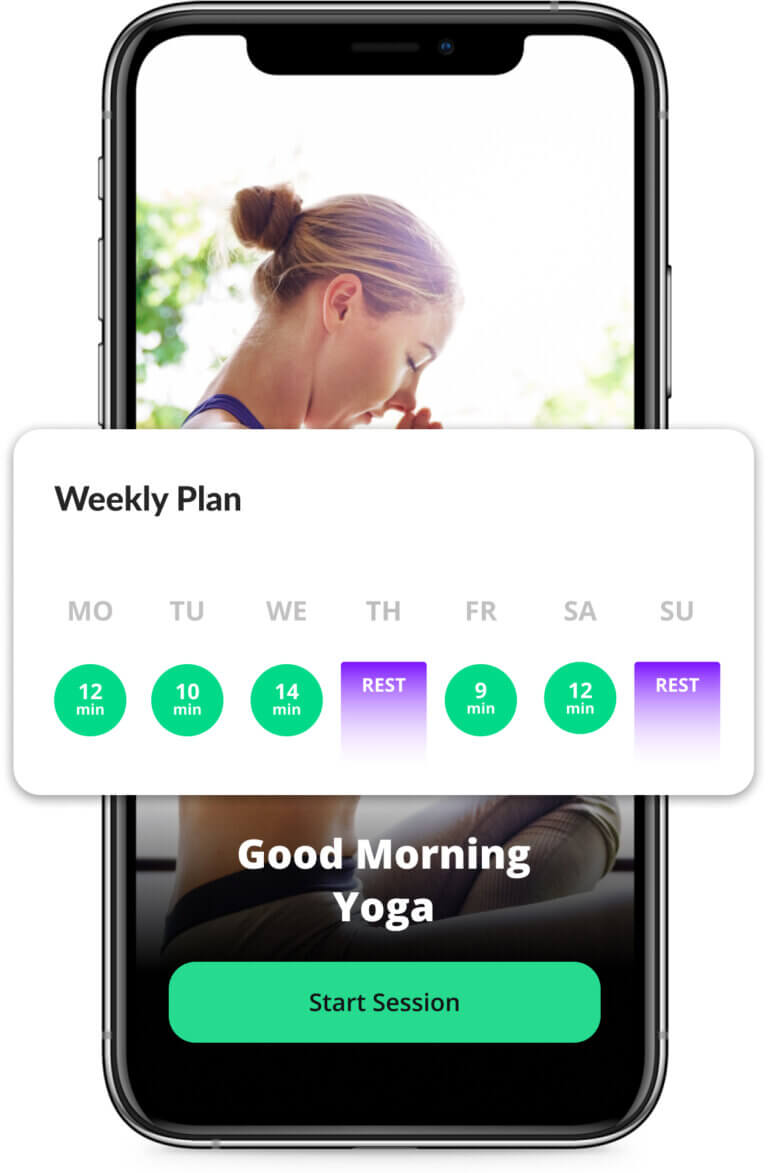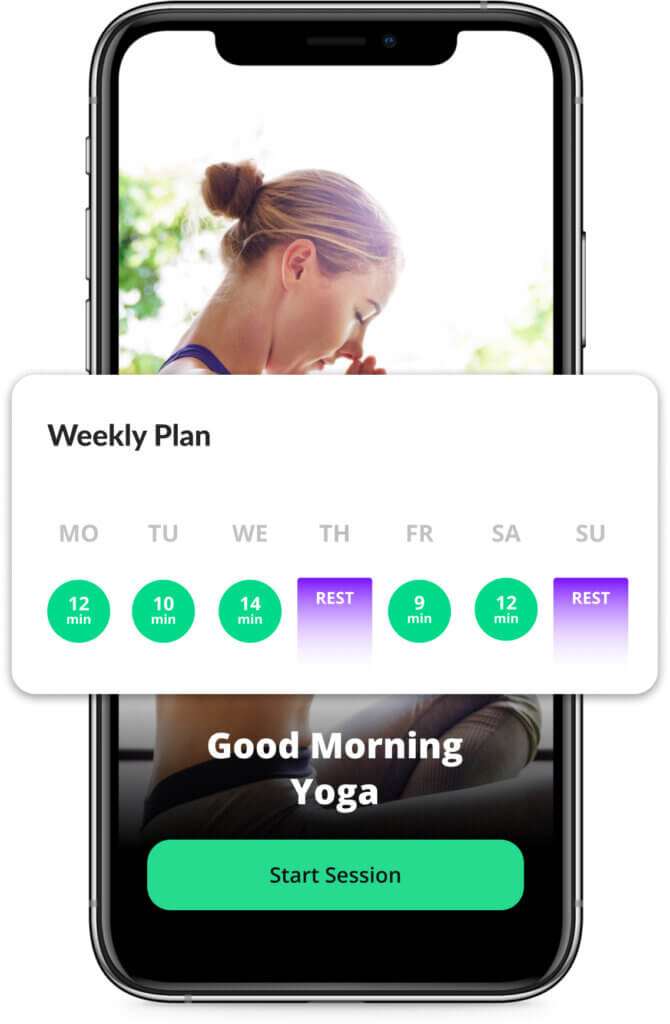 The programs are built to fit into your schedule. We know that doing 8 minutes of yoga every day is much more powerful than doing an hour once a week. We will make sure you keep coming back and create a consistent practice that's rewarding and creates real results.
This time, life will NOT get in the way.

"Thanks to DoYou I was finally able to create an amazing daily yoga habit, despite my busy schedule."
Mei from Austin, USA
You will see results.
Guaranteed (or money back).
We're not here to sell you something that isn't perfect for you. We know that the DoYou Method™ works (literally a million people are proof of that). But if for some reason it doesn't work for you, we'll give you your money back. No questions asked.
These results speak for themselves…
Can you see why thousands of people just like you are getting in shape and feeling amazing using the DoYou Method™?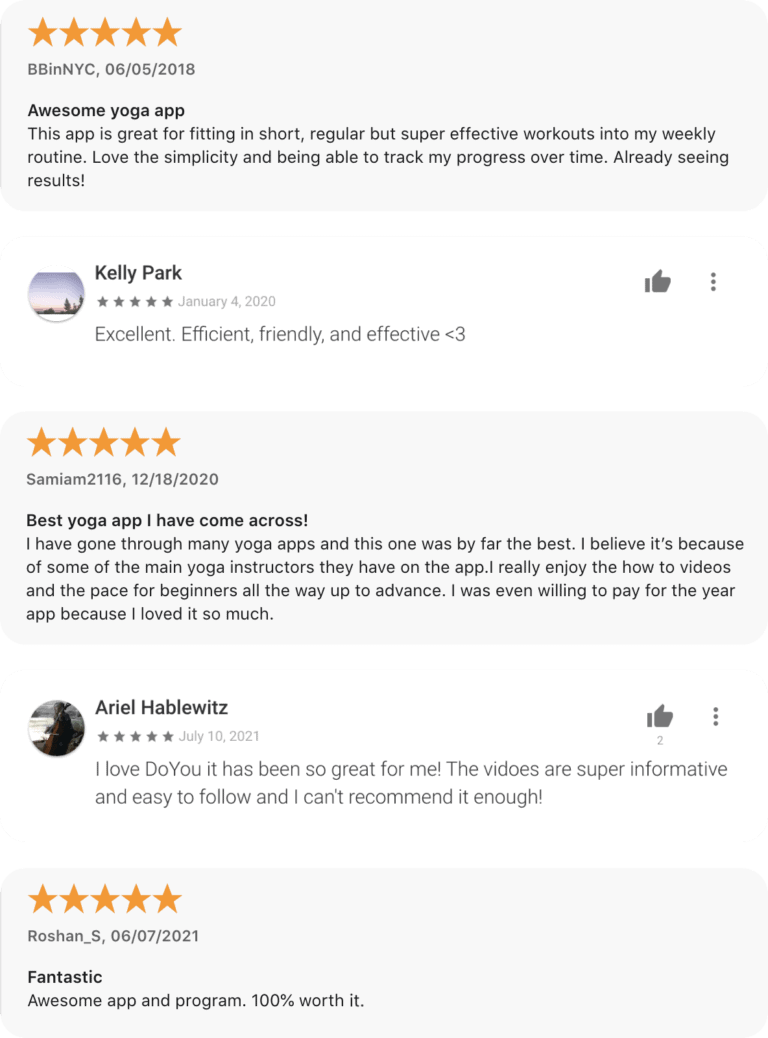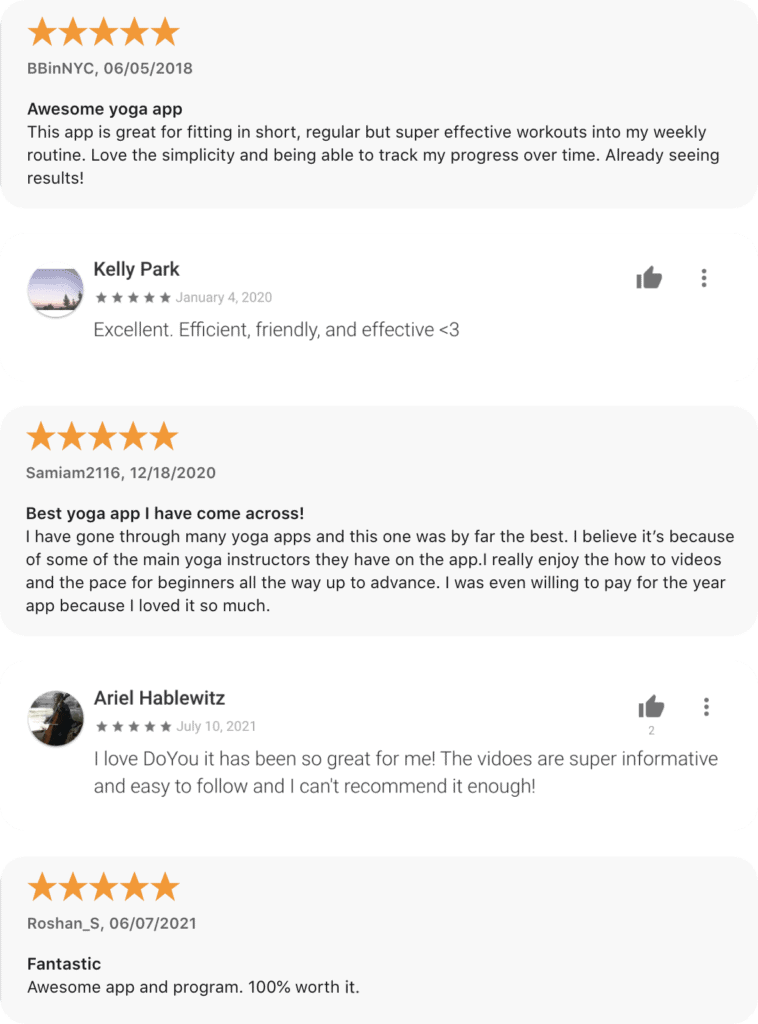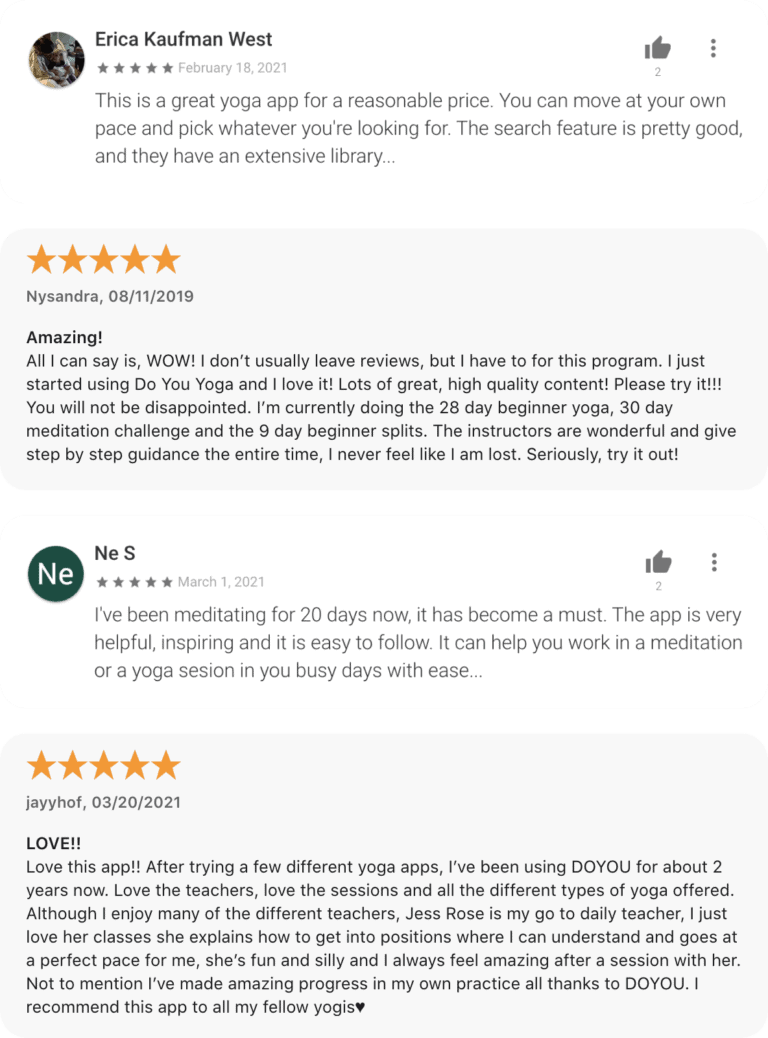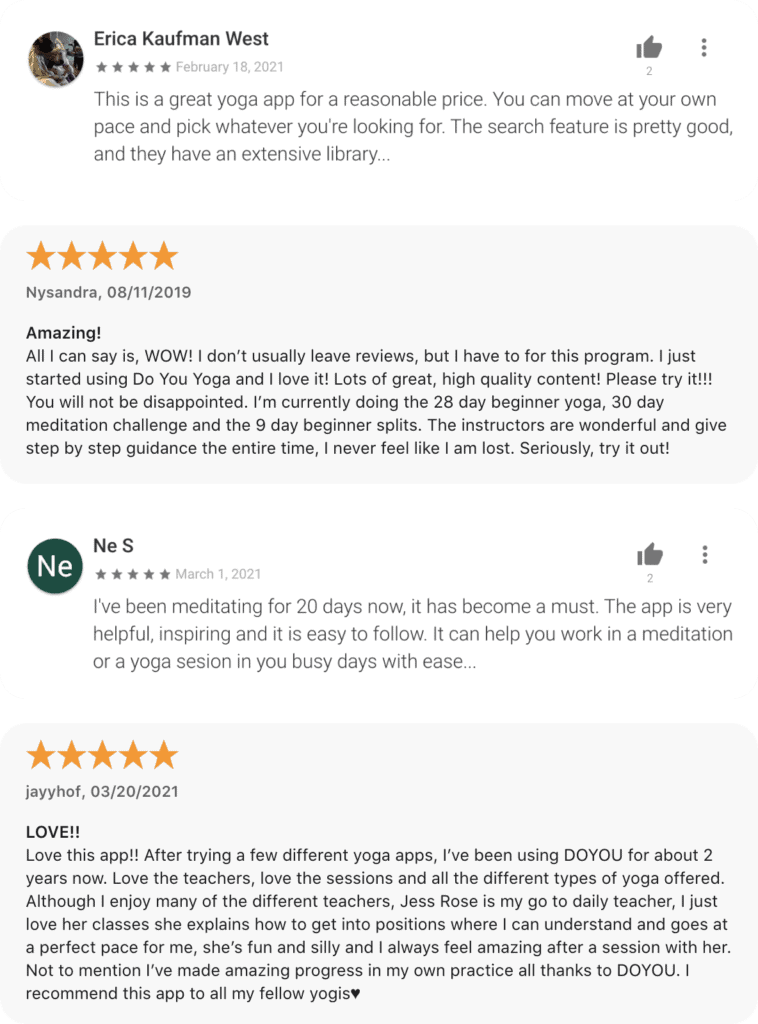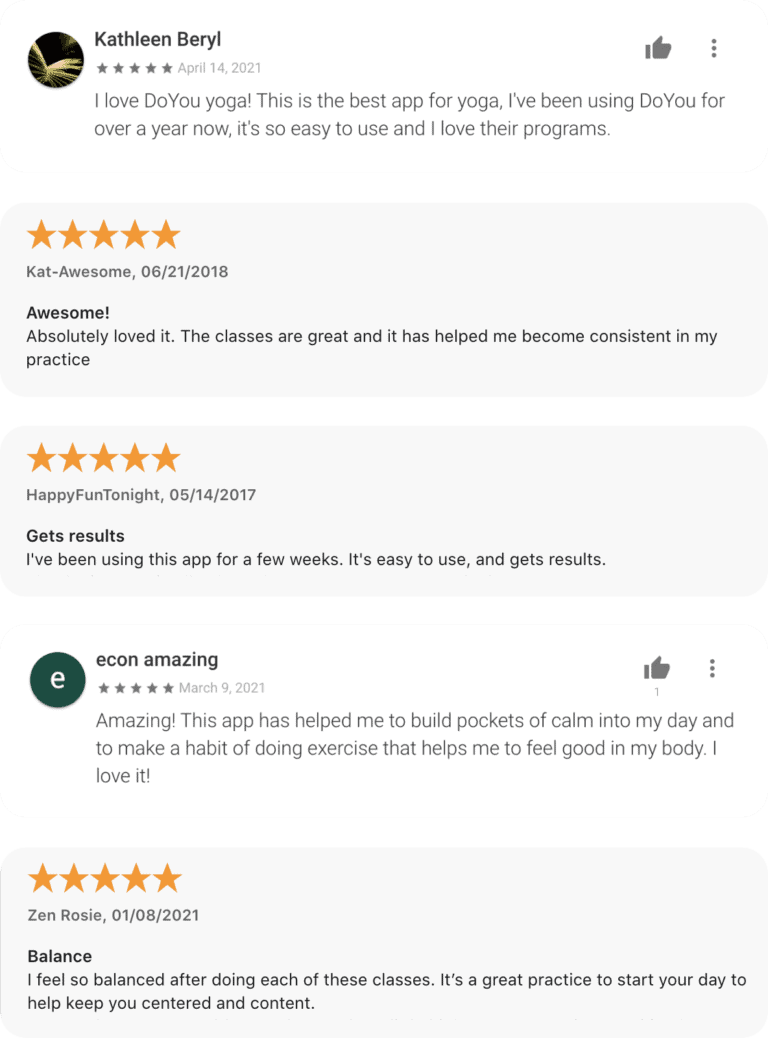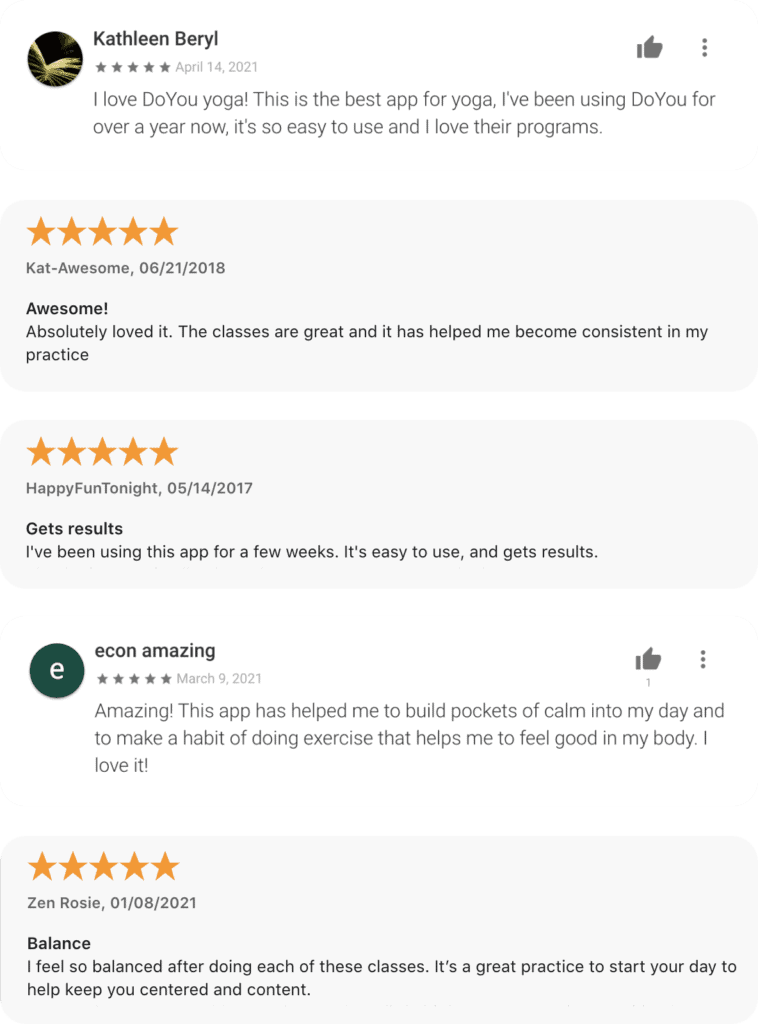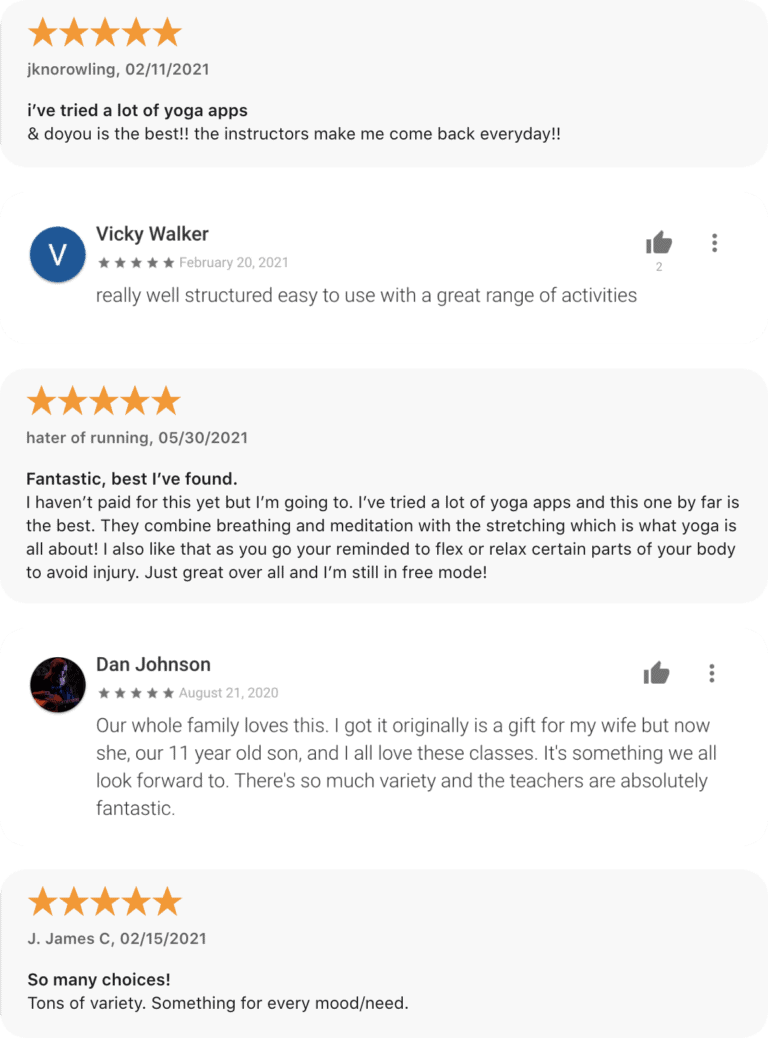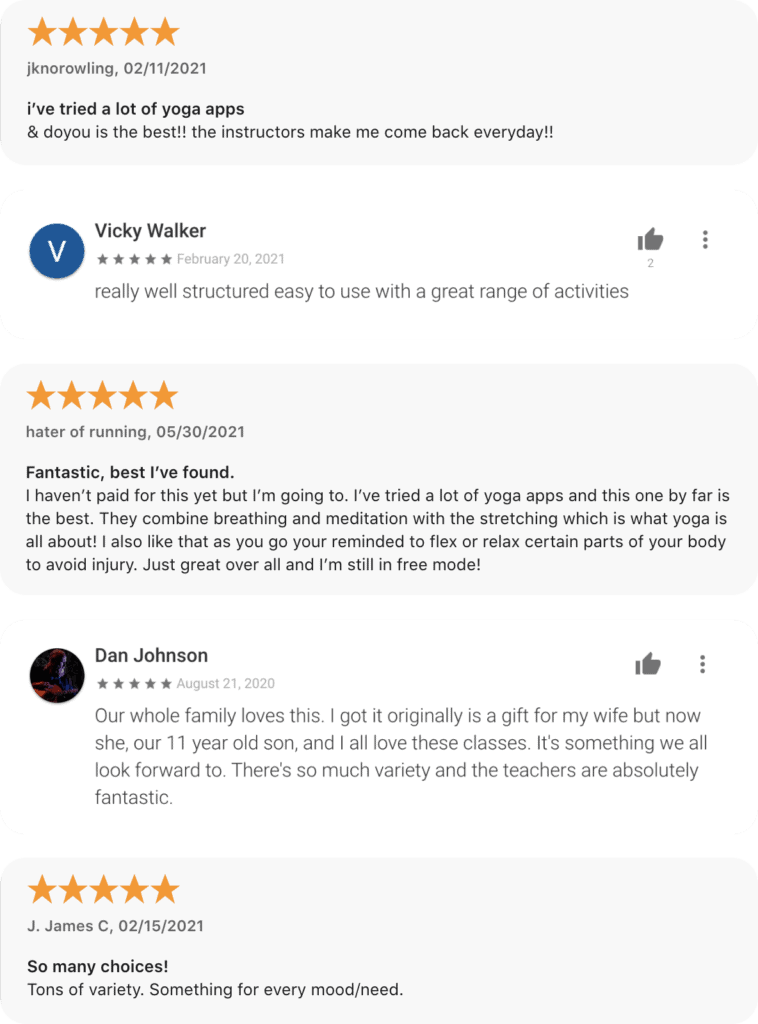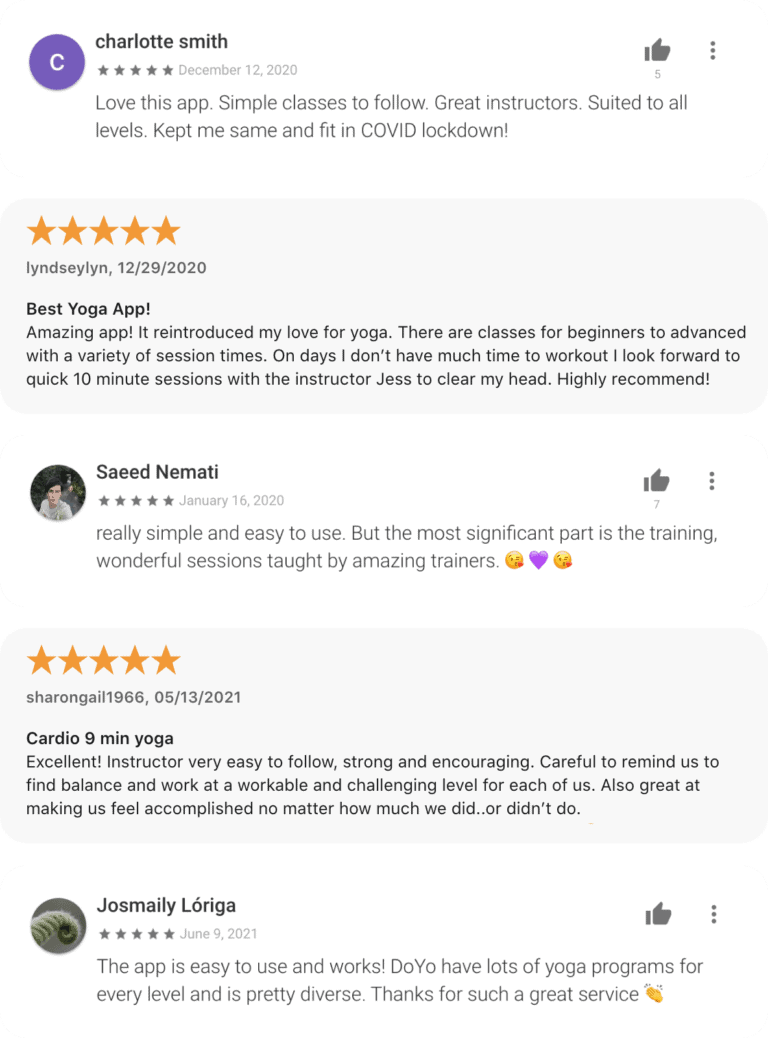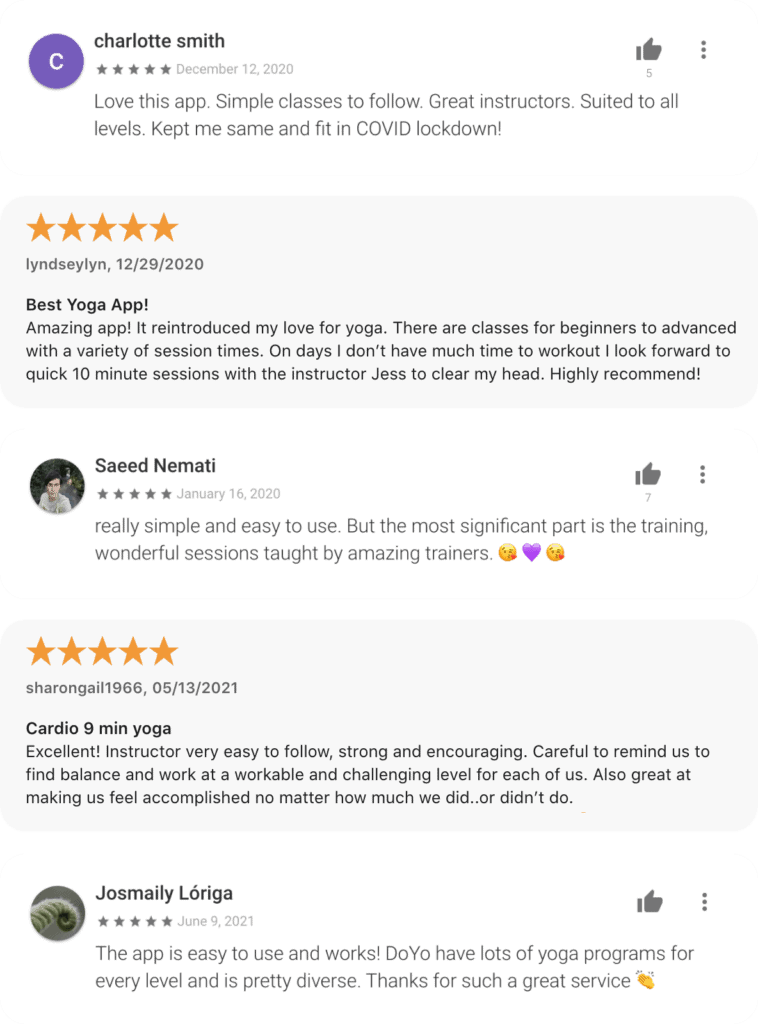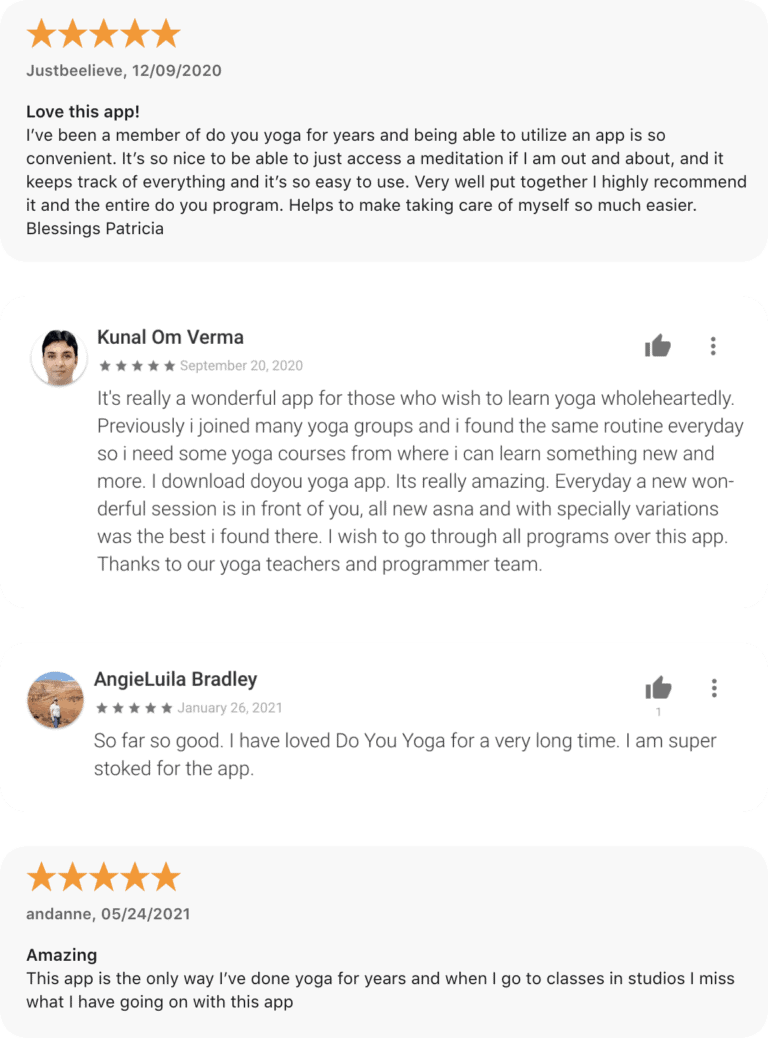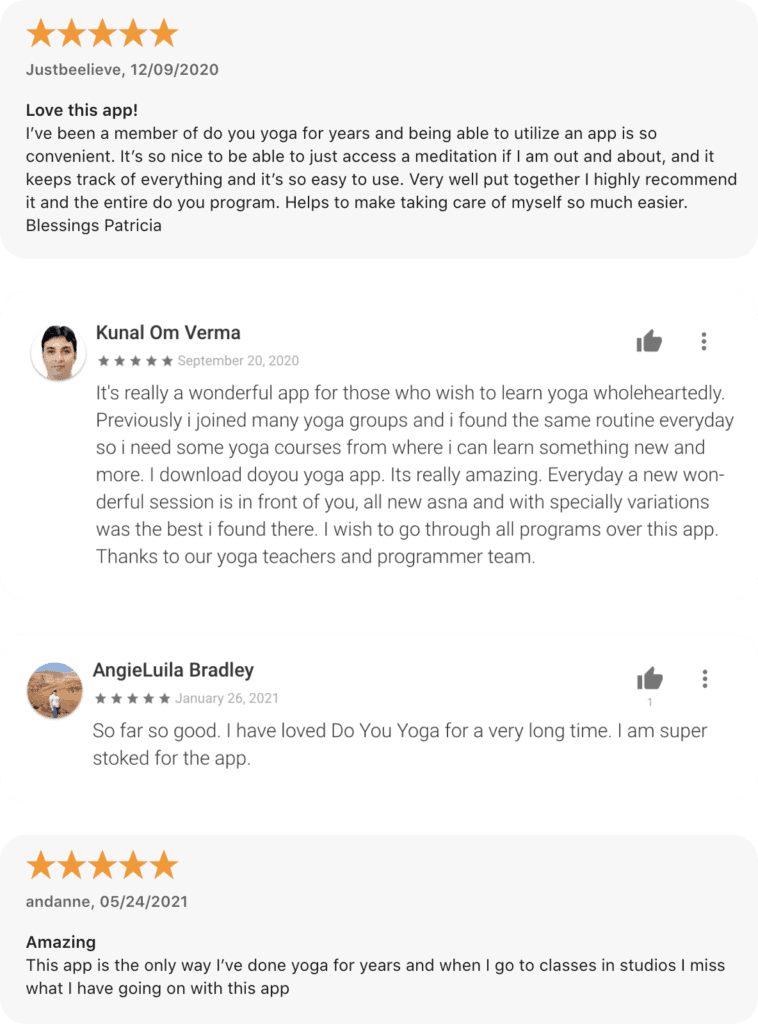 The question is…
are YOU next?
If you do nothing, nothing happens…

Your life could change dramatically when you take advantage of this rare opportunity to start on our shoulders – and get everything you need to transform yourself.

You have everything to gain, and nothing to lose.
30 days from now you can be nothing more than 30 days older or you can be a totally new you. You choose!
Wait!
But is there a guarantee?
Of course there is… 😀

30-Day Money Back Guarantee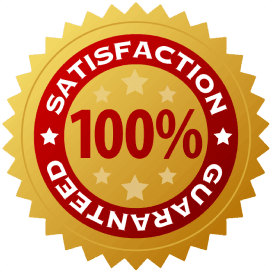 Like we said, we're not here to sell you something that isn't perfect for you. If for some reason the DoYou Method doesn't work for you, we'll give you your money back within the first 30 days. No questions asked.
So, are you excited to try the DoYou Method™ risk free?
It takes less than a minute to sign up and there's zero risk for you. Take the leap and try what has worked for hundreds of thousands.
You have nothing to lose and everything to gain.
Signup takes less than 60 seconds (money back guarantee)
Here are a few questions we get a lot…
Is this going to work for me?
Absolutely. You would be amazed if you knew how different our 1+ million users are. They come from all corners or the world, from teachers to engineers to stay-at-home parents. If it worked for all of them, why wouldn't it work for you
Do I have to pay for a subscription?
No! We believe this is one of the main problems of the fitness/yoga industry – their focus is trying to make you pay them every single month, and not actually getting you results. With DoYou, you pay once and get access to everything for life
Do you really have a guarantee?
We stand by our method! That means that if you feel that, within your first 30 days with us, this truly hasn't worked for you, we'll give you your money back. Simply send us an email at help@doyou.com and we'll take care of it
What happens if I don't buy today?
If you are able to see this page right now that means that you have only a limited time to grab this current offer with our bonuses – including the one-time payment lifetime access. If you don't join today, you won't be able to get this offer again.
What if I need help along the way?
No worries! We got the most amazing customer support team ever (yes, they are real people). If you need any help, have any questions or suggestions, or just want to reach out, send us a message at help@doyou.com
Do I need any kind of equipment?
Everything you need is a screen and your body. Inside DoYou you'll find some targeted programs that sometimes recommend using something like a strap or blocks, but don't worry if you don't have them, they are easily replaceable by common everyday items.
Do I need any experience?
Every level is welcome at DoYou. Because our focus is to create an experience completely adapted to you, we have content that is specifically designed for beginners, intermediate, and advanced practicioners.
Is my purchase secure?
We never keep your credit card information – your data is safely encrypted with industry standard SSL encryption.
Can I do it on my computer?
Yes. To access DoYou from your computer simply access https://app.doyou.com from any browser and you are good to go. Works with any computer brand as long as you have internet.
Can I do it on my phone?
Absolutely. We designed the perfect app experience so you can take DoYou with you in your pocket! Our apps are available for every smartphone at Google Playstore or Apple Store.
Can I do it on my TV?
Want to practice on a big screen? No problem. You can stream your sessions to any SmartTV.
Do you have programs for my goal?
Yes. Here are some examples of the different goals from our programs: fat burn, strength, flexibility, beginners, intermediate, advanced, handstands, back pain, stress relief, better sleep, pregnancy yoga, and many more!
Signup takes less than 60 seconds (money back guarantee)